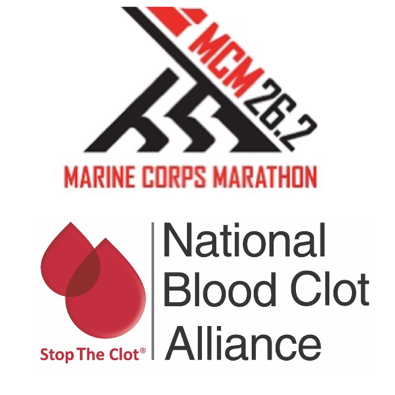 The National Blood Clot Alliance (NBCA) is pleased to announce that we have been selected to participate in the 2017 Marine Corps Marathon's Charity Program.  Team Stop The Clot® will be running this historic race as a team for the first time on October 22, 2017.  The Marine Corp Marathon, aka the 'Marathon of the Monuments' is recognized for impeccable organization on a scenic course managed by the US Marines in Arlington, VA and the nation's capital. The Marine Corps Marathon is one of the largest marathons in the US and the world. The race is known as 'the best marathon for beginners' and one that all runners have on their bucket list.
The MCM is the largest marathon in the world that does not offer prize money to its top finishers. Instead, the event is a celebration of every finisher's honor, courage and commitment to training for, and completing, the MCM. With more than 2,000 Marines and Sailors supporting the organization of the event, runners have come to expect excellence in execution of the event and tremendous on-course support, earning the MCM recognition as a world-class running event.
Interested in joining us on Sunday, October 22nd to race through our nation's most historic monuments as a part of the first Team Stop The Clot® team to cross the finish line? Apply below!
Why Join Team Stop the Clot®?
Beyond a doubt, we're one of the most supportive, energetic and fun charity teams. Sporting red polka dot shirts and other Team gear, you'll see us running throughout the US increasing blood clot awareness at 5Ks, 10Ks, Half Marathons and Marathons. Our shirts inspire questions. Our Team members have the answers.
As a member of Team Stop The Clot® your benefits include:
Access to our past Team Stop The Clot® members – maybe even in your own community
Team Stop The Clot® Facebook page
Patient Runner Match Program
Personalized fundraising webpage and fundraising assistance
Marathon weekend team event
Race day singlet and other Team Stop The Clot® swag
Applications are now being accepted for Team Stop The Clot®: 2017 Marine Corps Marathon Application. Each accepted team member will be expected to raise a minimum of $1000. As part of our fundraising incentive, the National Blood Clot Alliance will reimburse runners for the registration fee upon raising the required amount.
Please complete the application and email it to jelkin@stoptheclot.org or fax it to 781.784.5531.  Applications will be processed in order of receipt. You will be notified of your acceptance to Team Stop The Clot® within 2 weeks of receipt of your completed application.
---
*No Federal or Marine Corps endorsement of advertisers or sponsors is implied.