Team Stop the Clot®
What is Team Stop The Clot®?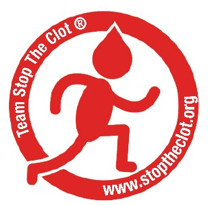 Beyond a doubt, we're one of the most supportive, energetic and fun groups around. Sporting red polka dot shirts and other team gear, you'll see us running throughout the U.S. increasing blood clot awareness at 5Ks, 10Ks, marathons and walks. Our shirts inspire questions. Our Team members have the answers. Here's what a few of them have to say:
"I spent six weeks with active PEs – even though I had classic PE symptoms- I was "too young" and "too healthy" and "had no long flights or surgery,"… "couldn't be clots." I was running with PEs in my lungs, until I couldn't get up the block anymore, and ended in the ER. Like you, if I hadn't been somewhat fit, who knows how long I'd have lasted till they figured it out." – Chris
"Thank you for sharing and for the encouragement because I often feel like I'm yelling into the wind about pregnancy and DVT/PEs! (I had bilateral PE at 24 weeks). People need to know. They won't know unless we tell them." -Casey
"So awesome!!! I too recently had a fellow athlete friend with symptoms of a DVT following surgery. Because of what happened to me, she was aware of the symptoms and was able to get help immediately for what actually did turn out to be a blood clot! Keeping the word out is key!" -Angie
We're incredibly grateful to our athletes and donors of for all that they do to raise awareness and funds for our lifesaving mission. We have athletes throughout the country running, swimming, walking and cycling on behalf of Team Stop The Clot®. You name it, one of our team members has likely done it, although we are always up for taking on new adventures. Whether they organize an event of their own or participate in an existing one, our athletes are sharing their stories and inspiring conversations about blood clots sporting their red polka dots. Check out the links below to learn more about Team Stop The Clot®:
Ready to get involved with Team Stop The Clot®? E-mail Tarin Patrikis to get started today.