Caregiver Resources
The National Blood Clot Alliance (NBCA) has partnered with ProPatient.com, a provider of interactive online patient education tools, to make available an online resource dedicated to the specific information needs of the individuals who provide care and support to people affected by venous thromboembolism.


Specifically, this program is designed to empower caregivers to take an active role in the care of their loved ones, and to share information about the treatment options available to reduce the risk of dangerous blood clots and their recurrence among people who have already been diagnosed.
This online educational program, called Activating Caregiver and Patient Understanding of New Options to Treat and Prevent Venous Thromboembolism, features NBCA Board Member Teresa Bordeaux, who shares important insights about her experiences as the caretaker for her husband, Larry, who is affected by portal vein thrombosis. During the online program, Teresa and others appear in video vignettes to share suggestions for caregivers to improve communication with their loved ones and their healthcare providers, as well as other important resources and materials.
You can view Teresa's brief introduction to the program here.
Teresa Bordeaux, a long-time supporter and Board Member of NBCA, works for the AICPA and resides with her family in Cary, North Carolina. You can follow Teresa on Twitter (@LiverWife), as she shares information about venous thromboembolism and her other passion, which is the importance of organ donation.
---
The full online program is available at no cost and can be accessed via the ProPatient Web portal: Online Caregiver Program
---
ProPatient is an online educational platform that utilizes interactive video and engaging simulation, providing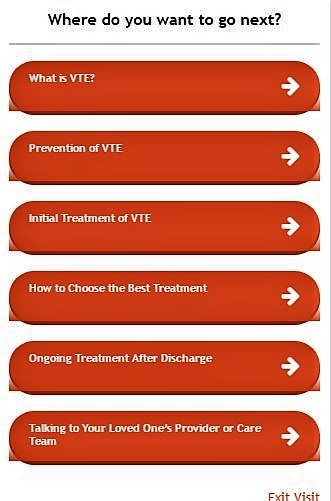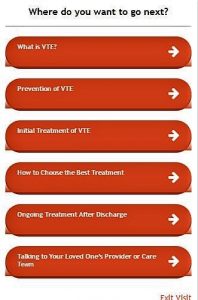 caregivers the opportunity to simulate virtual role-play scenarios to improve their knowledge and skills.
The ProPatient mobile app is the companion app for a simulated doctor visit.
The ProPatient VTE program provides a self-paced series of video segments, available via a user friendly menu of options, that allows caretakers to explore a spectrum of topics related to blood clots.
Additional program partners involved in this important work are Healtheo360 and ASiM.
To read the press release regarding the development and introduction of this program, click here: ProPatient press release.
Contact info@stoptheclot.org with comments or questions.