About Clots
Blood Clot Info: Know Your Risk, Recognize Symptoms, and Prevent Blood Clots
Get all the blood clot info you need from the National Blood Clot Alliance. Here is all the information you need to know about blood clots, all in one place.
---
Know Your Risk for Blood Clots
Blood clots do not discriminate. They affect people of all ages, race and gender. One of the most important things you can do to prevent blood clots is to know if you are at risk. The risk factors for blood clots include:
Hospitalization for illness or surgery
Major surgery, particularly of the pelvis, abdomen, hip, knee
Severe trauma, such as a car accident
Injury to a vein that may have been caused by a broken bone or severe muscle injury
Cancer and cancer treatments
Use of birth control methods that contain estrogen, such as the pill, patch or ring
Pregnancy, which includes the six weeks after the baby is born
The use of hormone therapy, which contains estrogen
A family history of blood clots
Overweight
Confinement to bed or wheelchair
Sitting too long, especially with legs crossed
Smoking
Age 55 or older
Long-term diseases such as heart and lung conditions, or diabetes
---
Recognize Signs and Symptoms of Blood Clots
There are several important signs and symptoms of blood clots. If you can recognize these signs and symptoms, you can save your life or the life of a friend or family member.
Symptoms of a Blood Clot in the Leg or Arm (Deep Vein Thrombosis or DVT)
Swelling
Pain or tenderness not caused by injury
Skin that is warm to the touch
Redness or discoloration of the skin
If you have these signs or symptoms, alert your doctor as soon as possible.
Symptoms of a Blood Clot in the Lung (Pulmonary Embolism or PE)
Difficulty breathing
Chest pain that worsens with a deep breath or lying down
Coughing, or coughing up blood
Faster than normal or irregular heartbeat
Seek immediate attention if you experience these signs or symptoms.
If you need help finding a doctor who specializes in blood clots or blood clotting disorders, please visit here.
---
Prevent Blood Clots
Blood clots are preventable and can be safely treated.  You can reduce your risk by learning some of the best ways to protect yourself from life-threatening blood clots.
Know your risk for blood clots.
Recognize the signs and symptoms of blood clots.
Tell your doctor if you have risk factors for blood clots.
Before any surgery, talk with your doctor about blood clots.
See your doctor as soon as possible if you do have any symptoms of a blood clot. Blood clots can be safely treated.
Get up and move if you've been sitting for a long time or traveling for a long time by plane, train, or car. Stand up, walk around, and stretch your legs every two to three hours.
Maintain a healthy weight.
Don't smoke or take steps quit smoking
---
Learn About Blood Clot Treatment:
The prevention and treatment of blood clots primarily involves the use of anticoagulant medications or, as they are commonly referred to, "blood thinners." While these medications do not actually "thin" the blood, they do slow the body's ability to form new clots and keep existing clots from getting bigger. Learn more about blood clot treatment here: Blood Clot Treatment.
---
Get More Blood Clot Info to Share:
Risk factors, Signs and Symptoms of Blood Clots
You'll find great information, including

important downloadable checklists that you can share, at Stop the Clot, Spread the Word™.
Share our infographic as a guide to information about risk factors, signs/symptoms, and prevention and watch our short video with the most important blood clot info people need to know.
Women and Blood Clots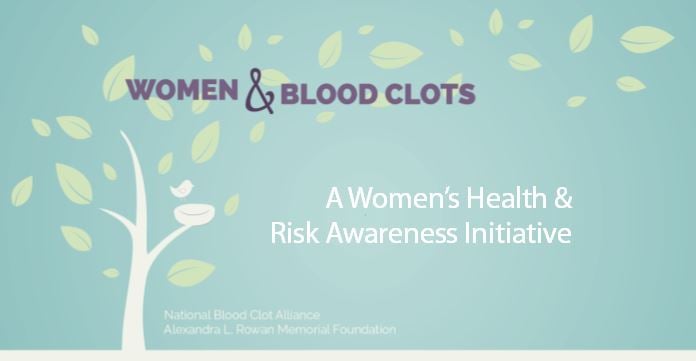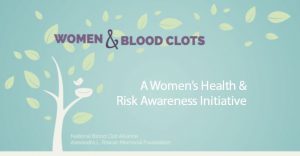 Help women understand the blood clot risks connected to several important life stages, including birth control and family planning, pregnancy and childbirth and the treatment of menopause symptoms.
Share our Women and Blood Clots Infographic with the women you know or watch our entire Women and Blood Clots Video Series.
Share Information and Find Support
A blood clot diagnosis can be life-changing, but you're not alone. We created the Team Stop The Clot® Facebook Group so that blood clot survivors can come together as a community and share their blood clot journeys, talk about exercise, ask questions, cheer each other on, and provide comfort. Join the group here.