Programs & Services
COVID-19 AND BLOOD CLOTS: A NEW NBCA IMPERATIVE
In 2020, the emergence of the coronavirus pandemic unleashed a spectrum of new challenges for the clotting disorders community and the clinicians and scientists who work in this clinical space. The recognition of unprecedented clotting among people affected by COVID-19, particularly among those individuals who become seriously ill with COVID-19, set in motion a response by NBCA, as well as its Medical & Scientific Advisory Board, to address the information gaps related to COVID-19 and blood clots, and also to contribute to the research efforts taking place around the world.
NBCA, in partnership with the University of Oklahoma, received an award through an Association of University Centers on Disabilities-Centers for Disease Control cooperative agreement to facilitate and advance research into blood clots as a complication of COVID-19. The award is also funding efforts to raise awareness among certain high-risk populations, including how COVID-19 blood clot complications affect African Americans and pediatric patients. To learn more about this work, click here: CDC Grant Supports National Blood Clot Alliance COVID-19 Research.
To learn more, visit NBCA's dedicated COVID-19 and blood clots resource page here: Understanding COVID-19 and Blood Clots.
---
STOP THE CLOT, SPREAD THE WORD®
NBCA's widely acclaimed Stop the Clot, Spread the Word® public awareness campaign stems from NBCA's five-year cooperative agreement with the Centers for Disease Control and Prevention. This campaign involves a dynamic online or digital media effort that has reached more than 200 million people with information about blood clot risks and blood clot signs and symptoms since it was launched.
The campaign, which rolled out in March 2015 in recognition of Blood Clot Awareness Month, was made possible through funding provided to the National Blood Clot Alliance by the Centers for Disease Control and Prevention under Cooperative Agreement number 1U27DD001153. You can read more about this campaign here: Stop the Clot, Spread the Word®
NBCA and CDC efforts for this program have been focused on DVT/PE risks associated with:
Pregnancy & Childbirth: which shares information that will help women work with their healthcare providers to assess their risk and take steps to prevent blood clots.
Resources from this important public health awareness campaign were translated for use among people who speak Spanish. The Spanish language translation of this content demonstrates the growing reach of this work.
---
WOMEN & BLOOD CLOTS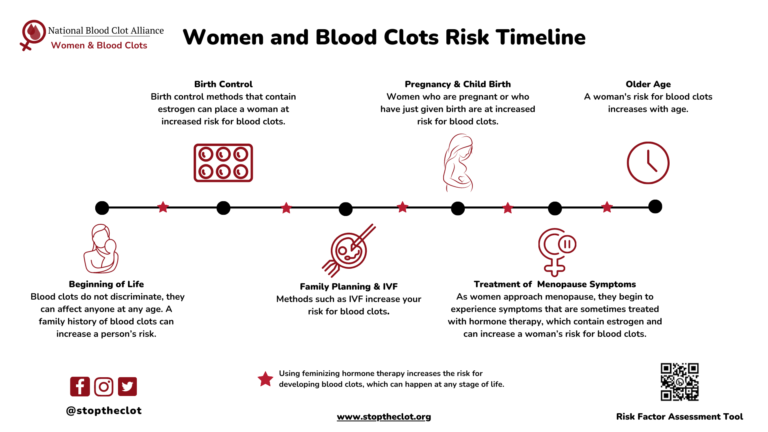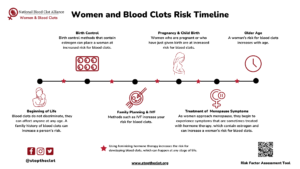 In 2015, NBCA developed a unique web-based information portal (womenandbloodclots.org), focused singularly on the risk of blood clots among women. Women are at unique risk at various life stages: when making decisions on birth control and family planning, pregnancy and childbirth, and the treatment of menopause symptoms.
Since the creation of this program, NBCA has generated important resources, including:
NBCA has also extended its outreach to specific populations, including university-based student health centers and college sororities nationwide, to provide education surrounding birth control risk factors for blood clots and the different options there are for women considering or who are currently on birth control.
Presently, NBCA continues its focus on the specific needs of women throughout various life stages, including beginning of life, birth control, IVF and family planning, pregnancy and childbirth, treatment of menopause symptoms, older age and the use of feminizing hormone therapy. NBCA aims to provide accurate and educational information to inform women of their unique blood clot risk factors.
---
SPORTS & WELLNESS INSTITUTE
In 2020, NBCA launched a Sports and Wellness Institute, a comprehensive online community and resource designed specifically for amateur athletes and others striving to return to healthy, active lifestyles after surviving blood clots. The NBCA Sports & Wellness Institute is dedicated to the concept of TEAM: focused on Togetherness, Education, Awareness, and Motivation. Athletes across the country raise blood clot awareness by participating in races as Team Stop The Clot®. Katie Hoff, Olympic swimmer and three-time Olympic medalist, is the official ambassador for the National Blood Clot Alliance Sports & Wellness Institute.
---
PATIENT SUPPORT COMMUNITY
Our private Team Stop The Clot® Facebook Group offers a supportive environment for patients, providing the opportunity to tell their stories, learn from others, share information, cheer each other's victories, and offer support.
---
PEP TALK: PATIENTS EDUCATING PATIENTS
NBCA hosts a monthly PEP Talk (Patients Educating Patients). This virtual support group focuses on a different topic each month to help guide patients through their blood clot diagnosis and recovery journey.
---
ONLINE VTE E-LEARNING COURSE
NBCA's online VTE e-learning course for healthcare professionals — Stop the Clot® – What Every Healthcare Professional Should Know — provides a valuable online learning opportunity and continuing medical education credits for doctors, pharmacists, nurses, and allied health professionals alike. This program is orchestrated by NBCA, in collaboration with the Centers for Disease Control and Prevention, and was recently updated to reflect the latest evidence-based information in this clinical field.
---
COMMUNITY THROMBASSADORS
NBCA is building a grassroots network of thrombosis ambassadors—thrombassadors—who are patients, caregivers, and family members from across the nation who are professionally trained to promote NBCA's blood clot awareness mission. They connect with people and organizations in their community to share information about NBCA and blood clots. Outreach is conducted via churches, schools, civic clubs, sports teams, employers, and local press.
---
LUNCH AND LEARN
NBCA offers Lunch and Learn blood clot education presentations to businesses, schools, clubs, or other civic groups. These virtual and in-person blood clot education talks are designed to increase awareness, teach the signs and symptoms, and encourage prevention. Talks are given jointly by NBCA staff, patients, and nationally recognized experts in thrombosis and thrombophilia.
---
HEALTH DISPARITIES INITIATIVE
NBCA is committed to reducing disparities in the prevention, diagnosis, and treatment of blood clots. NBCA is participating in a quality improvement project led by MediCom Worldwide and in partnership with the Mississippi State Medical Association, Mississippi Hospital Association, and the Mississippi Business Group on Health. The project is aimed at reducing health disparities and improving health outcomes among African Americans affected by blood clots in rural Mississippi.
---
THE CLUES BLOOD CLOT STUDY
Recognizing that blood clots have an emotional as well as physical impact, NBCA conducted the largest study of its kind in Fall 2021 examining the emotional well-being of blood clot survivors. Published results are forthcoming and will inform future NBCA programs.
---
EMERGING RESEARCHERS BOARD
NBCA Council of Emerging Researchers, chaired by Dr. Rushad Patell and Dr. Dana Angelini, will work under the leadership of NBCA's Medical and Scientific Advisory Board (MASAB), which is comprised of the nation's foremost experts on blood clots and blood clotting disorders. NBCA's Council of Emerging Researchers will participate in various clinical research projects on behalf of NBCA and lead efforts to facilitate data analysis and dissemination on NBCA's existing five year cooperative agreement with the CDC.
---
HEALTH EQUITY INSTITUTE
The National Blood Clot Alliance (NBCA) has established an advisory council consisting of Black VTE patients, Black VTE patient caregivers and Black health care providers to identify and address the gaps associated with VTE treatment, incidence, and mortality within the Black community by conducting research among patients, patient caregivers, health care providers, and potential partners.
---
PATIENT ADVOCACY
NBCA advocates on behalf of patients impacted by blood clots and  blood clotting disorders by promoting increased funding, awareness, and supportive public and private sector policy.
---
SHARE TO STOP THE CLOT®
Share to Stop the Clot® is a social media sharing initiative. Sign up in just three simple steps and start sharing the life-saving information that matters most. When you join this free program, you will receive exclusive access to NBCA's social media content, which you can then share with your friends, family, and social networks. Also, be added to Social Sharing Opportunity E-mail Alerts, and be among the first people to receive updates about new content to share stemming from NBCA's new programs and services. Help us save lives and Share to Stop the Clot®.  
---
e-Magazine — Production of an e-Magazine, Personal Perspectives, My Blood Clot, My Life, which  focused on recovery and lifestyle issues following a blood clot diagnosis. In 2020, NBCA's e-Magazine was awarded a Health + Wellness Design Award by Graphic Design USA, with just a small number of winners among 2,500 entries.  You can read more about it and flip through recent issues here.
---
Email List — NBCA shares timely and topical information with our constituents on a regular basis. Sign up for our email list today. 
---
For more information about NBCA's programs and services, please contact us at info@stoptheclot.org.