Focus on Promoting and Simplifying Adherence
Effective AC Management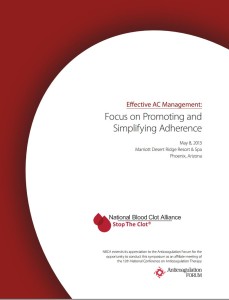 In May 2013, the National Blood Clot Alliance (NBCA) convened a multidisciplinary group of physicians, nurses, patients, pharmacists and other stakeholders in anticoagulation management to focus their expertise on a program addressing the use of oral anticoagulation (OAC) therapy and adherence.
This NBCA symposium: Effective AC Management: Focus on Promoting and Simplifying Adherence – was held in Phoenix, AZ, as an official affiliate meeting of the Anticoagulation Forum's 12th National Conference on Anticoagulation Therapy.
Many complex factors that contribute to nonadherence among patients taking OACs were reviewed. With the introduction of new OACs to prevent blood clots related to atrial fibrillation (AF) and venous thromboembolism (VTE), new challenges involving adherence emerge.
Nonadherence is both a common and complex issue. According to a survey conducted in 2006 by the National Community Pharmacists Association and Pharmacists for the Protection of Patient Care, nearly three out of four Americans do not always take their medication as prescribed.
The reasons for nonadherence can range from something as simple as forgetting to take medication or as complicated as the onset of troublesome side effects or the inability to pay for a prescription. In anticoagulation therapy, studies have shown that 22% to 32% of patients affected by AF do not take warfarin therapy as prescribed, which generally corresponds with results of a survey conducted by NBCA, in which 26% of 259 AF patients taking warfarin reported nonadherence.
As reviewed during this symposium, several factors combine to make this a subject of growing importance, including the aging of America, the growing incidence of AF, the emergence of new OACs that no longer require monitoring, and the costs of medications and healthcare.
NBCA was honored to have such a dynamic group gathered to contribute to this program, and also to have the direction and input of our distinguished faculty for this symposium. For a full PDF of the symposium proceedings, click here: Adherene Conference Proceedings
---
Personal Perspectives
Two personals perspectives related to adherence were provided by participants in this meeting, one an individual affected by atrial fibrillation, and the other individuals affected by DVT/PE.