JUST LISTEN…
If you are pregnant, you ARE at risk for DVT.
Katiesvoice.org is dedicated to the memory of Katie M. Projansky (Anderson) and the promise of preventing DVT/PE related deaths in pregnancy. Katie's Voice is an example of how the seeds of personal tragedy can blossom into great hope and possibility.
It was five years ago on June 7, 2009 that my younger sister Katie, a vibrant, 36 year old woman who was 7 weeks pregnant passed away from DVT/PE.
I remember that Sunday afternoon like it was yesterday. I had just arrived home from grocery shopping and was putting things away when my phone started to ring. I had missed the call and noticed that it was my younger sister. Almost immediately my phone started ringing again and I noticed it was my mom calling. Have you ever had a feeling that something terrible is about to happen? Before I even picked up the phone to talk with my mom, I knew something was terribly wrong. I only remember the first sentence or two of that conversation with her… everything else that followed was and still is a blur.
For at least two years prior to Katie's passing, I can remember several occasions when she and I were spending time together and Katie felt short of breath. Of course, like many of us, Katie attributed her shortness of breath to being "out of shape" and assuming that when she lost weight her breathing would improve. Instead, a vicious cycle ensued; Katie wanted to lose weight but was limited in her activity by her shortness breath.
In February, 2009, Katie was evaluated by a physician who thought she might have sleep apnea. Katie also saw a cardiologist because it was thought she might have had a hole in her heart. I remember this because I was worried about her and drove to Illinois on the day she was going in for her testing. The test results were unremarkable.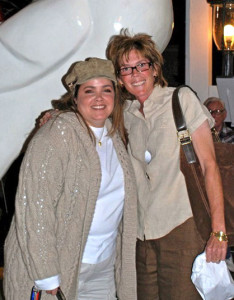 Fast forward to the beginning of May, 2009 when Katie started to have unbearable pain in her calves and thighs. The pain was so severe that she could barely walk and she could not sleep. She went to a doctor on May 9th and saw a physician's assistant who sent her home and told her to take 2 Ibuprofen 4 times a day. She received no relief from the pain. One week later on May 16th, Katie and her husband went back to the doctor who thought she was either experiencing Tarsal Tunnel Syndrome or a Vitamin B12 deficiency. On that same day Katie found out that she was pregnant. This particular day, May 16th, I remember well. I had just called her while she was on her way home from the doctor's office with her husband. I asked her if they knew what was causing the pain in her legs, and she said she was told, "I do not know what is wrong with your legs, but you are pregnant!!"
Knowing what I know now, Katie should have immediately had an ultrasound of her legs to evaluate her pain as pregnancy increases a woman's risk for blood clots and leg pain is one of the most common symptoms of having a blood clot. The next few weeks did not bring any relief and she continued to suffer. My sister was told to take Ibuprofen, sit on a heating pad, soak in a warm tub, and so on.
Some other things happened the next few weeks with the pregnancy that took her mind off of the pain that she was experiencing. Katie's husband was not sure if the pain was gone or just masked by their concern for a miscarriage. They found out on June 4th that they did not lose the pregnancy. The next night the pain returned just as strong as it originally was. On Sunday, June 7th, Katie was taking a shower when the PE hit her lungs. It was only an hour from the time Katie cried out in pain until the ambulance took her to the ER where she was pronounced dead by the ER doctor.
Katie's wake was a blur to me… I went through the motions. I do not remember the conversations I had or most of the people who attended the wake and were so kind and supportive to be there for my family in our time of need. But one statement did stick with me. Someone walked up to me while the wake was going on and said to me that my grandmother may have passed from the same thing years ago. My mind was spinning, and all I kept thinking was could Katie's condition have been hereditary?
It is chillingly real when you realize how your world can change in an instant. Everything you value, know and love can be lost in a moment. As soon as I arrived back home to MO a week after Katie's death, I started looking up everything I could find regarding DVT/PE. I also learned that DVT/PE had affected three generations of my family.
I asked all of my siblings to go get tested for a blood clotting disorder and they did. May I just say that Katie may have just saved two of her other family members.
So here is what drives me to do Katie's Voice…it is my passion, it is my love and the memories I have of my sister, that gives me a sense of peace as I feel Katie's voice will be heard to make sure all women know about the risks of DVT/PE in pregnancy.
I will never forget that morning after mass, standing there in front of the church in the rain, holding one red rose and watching my sister being driven away in a hearse.
Please, talk with all your family members and share your medical history with one another. My grandmother and my sister's death certificates were identical. This conversation can truly save your life or the life of a loved one.
Through sharing stories of personal struggle and triumph and providing information about the causes, risks and DVT prevention, we can stop DVT/PE from taking the lives of women who are pregnant.