At the National Blood Clot Alliance, we are extremely fortunate to have incredible volunteers who help us raise funds to support our mission and also help us to get the word out about the risks, signs, and symptoms of dangerous blood clots.
The majority of people who connect with our organization do so after they have experienced a clot or suffered the loss of a close friend or family member. Through their efforts to plan community fundraisers, share their stories, and engage with NBCA on its social media channels, volunteers play an important role in contributing to improved awareness about blood clots by sharing this crucial information with their own network of family and friends. Dangerous blood clots do not discriminate. They can affect anyone, and our volunteers help us expand awareness of this important message.
Each month we will feature the story of an NBCA volunteer who has made a difference to our organization and shares in our passion for supporting our mission to reduce the number of lives lost to blood clots and clotting disorders.
If you are interested in getting involved with NBCA, please e-mail Caitlin Augustine at caugustine@stoptheclot.org.
---
August 2017 Volunteer of the Month: Denise Englert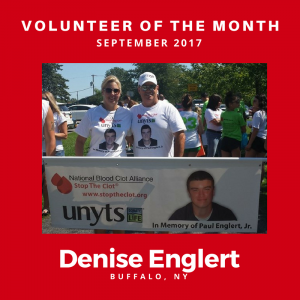 "I would like to thank the National Blood Clot Alliance for helping us to understand what happened to our son.  Everyone we have spoken to at your organization has been very kind, understanding and helpful. We appreciate that very much, especially at a time when we could make no sense out of what had happened to Paul. We hope to continue sharing Paul's story to not only carry on the legacy of his very short life, but to make others aware and hopefully save the lives of others. We don't want to have lost Paul for nothing, so we trudge along one day at a time, sharing information in multiple ways to reach as many people as we can." – Denise Englert
Introducing Denise Englert, who is NBCA's September Volunteer of the Month. Denise resides, with her husband Paul, in Clarence Center, which is a small town outside of Buffalo, NY.
Denise contacted NBCA soon after the devastating loss of their son, Paul Jr. Shortly before his death, Paul was diagnosed with exercise induced asthma, and he was given a prescription for an inhaler to help with the symptoms. Several weeks later, on September 19, 2013, Paul died of a pulmonary embolism while attending class at the University of Buffalo. He was only 19 years old.
Denise and Paul were heartbroken to learn that Paul Jr. died of a blood clot, something that never crossed anyone's radar. Other than his recent complaints of shortness of breath, Paul had no other symptoms. He was young, athletic and seemingly healthy. How was it possible that a blood clot took their only child?
Since then, Denise has made it her mission to educate others and raise awareness about the seriousness of blood clots, especially among younger people. She works tirelessly to keep Paul's memory alive while educating others about the signs, symptoms and risk factors for blood clots. In 2016, she organized the Forever Young Fundraiser, a creative and successful event benefiting the National Blood Clot Alliance.
Each year, the Englert's walk in the Clarence Center Volunteer Fire Company Labor Day Parade (as pictured above) passing out informational materials to the parade's spectators about blood clots. This year, on September 19 and the four year anniversary of Paul's passing, the Peace Bridge in Buffalo, New York will be lit up in red in memory of Paul, and in recognition of NBCA's ongoing work. In October, Paul Jr's aunt, Jeanne Harber, and Englert family friend, Inge Flackett will run the Marine Corps Marathon as part of Team Stop the Clot® in Paul's memory. Denise also agreed to take on another volunteer role by providing peer-to-peer telephone support to other parents who have lost a child due to blood clots.
Denise, on behalf of NBCA and the patients and families we serve, our deepest thanks for all that you do. We are most grateful for your strength and ongoing commitment to share your son's story in an effort to help others. Paul Englert Jr's story touches many lives, and his legacy will continue to live on through your efforts and our shared mission.
---
Previous Volunteers 
September 2017: Denise Englert
August 2017: Dan Flanagan
July 2017: Alison Sneag
June 2017: Vic Koziura
May 2017: Lisa Scott
April 2017: Roland Varga
March 2017: Jeanine Nastar