At the National Blood Clot Alliance, we are extremely fortunate to have incredible volunteers who help us raise funds to support our mission and also help us to get the word out about the risks, signs, and symptoms of dangerous blood clots.
The majority of people who connect with our organization do so after they have experienced a clot or suffered the loss of a close friend or family member. Through their efforts to plan community fundraisers, share their stories, and engage with NBCA on its social media channels, volunteers play an important role in contributing to improved awareness about blood clots by sharing this crucial information with their own network of family and friends. Dangerous blood clots do not discriminate. They can affect anyone, and our volunteers help us expand awareness of this important message.
Each month we will feature the story of an NBCA volunteer who has made a difference to our organization and shares in our passion for supporting our mission to reduce the number of lives lost to blood clots and clotting disorders.
If you are interested in getting involved with NBCA, please e-mail Caitlin Augustine at caugustine@stoptheclot.org.
---
July 2017 Volunteer of the Month: Alison Sneag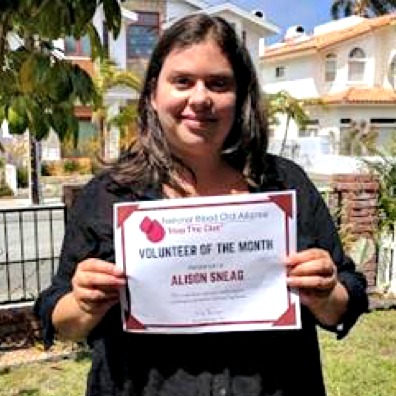 This month, NBCA honors volunteer Alison Sneag for her commitment to raising funds and awareness through annual Walk To Stop The Clot® events. Alison contacted NBCA following surgery for a near fatal, yet uncommon, sagittal sinus thrombosis/cerebral venous sinus thrombosis (CVST), or a clot in the large vein of the brain. Interested in learning more about blood clots, Alison attended NBCA's Stop The Clot Forum® at Cedars Sinai Medical Center in 2012, and decided to volunteer in hopes of bringing our mission to the local level.
In 2013, Alison organized NBCA's Walk to Stop The Clot®—the first volunteer-led NBCA event on the West Coast. As an experienced media professional, Alison utilized her skills to expand our presence in LA and Southern California. Even with her busy work schedule, Alison's talents were instrumental in planning, organizing and executing the Walk to Stop The Clot® – Southern California. The Walk continues to grow each year and is a memorable way to unite survivors and families in support of our mission of advancing the prevention, early diagnosis and successful treatment of life-threatening blood clots such as deep vein thrombosis, pulmonary embolism, and clot-provoked stroke.
Alison, on behalf of all of us at NBCA, our thanks for all that you've done and for all of the lives you've touched. You're making a difference every single day.
---
Previous Volunteers 
July 2017: Alison Sneag
June 2017: Vic Koziura
May 2017: Lisa Scott
April 2017: Roland Varga
March 2017: Jeanine Nastar