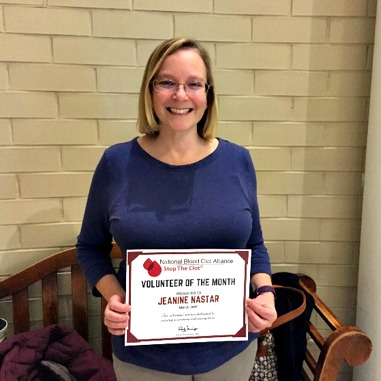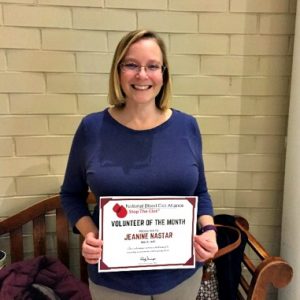 Congratulations to NBCA's first Volunteer of the Month, Jeanine Nastar. During the past two years, Jeanine has become an incredible asset to NBCA's volunteer base. She turned her family's personal tragedy into an opportunity to educate her community about the signs, symptoms, and risk factors for dangerous blood clots.
We originally met Jeanine in 2015, after the tragic death of her beloved brother, Jimmy Sperguiro. Jimmy was only 40 years old when he lost his life due to an undetected pulmonary embolism. After his death, Jeanine tirelessly researched blood clots and her search eventually led her to the National Blood Clot Alliance. The message driving her mission is clear: "I never want any family to endure what we've endured, due to something that could have been prevented."
Jeanine decided she wanted to do a local fundraiser in her hometown of Marshfield, MA, to honor her brother and educate others about blood clots. It was crucially important to Jeanine that the event honor Jimmy's memory and celebrate his short life. She made it clear that Jimmy would not have wanted a walk or a kickball tournament. Jimmy adored music and a good time, which gave rise to Jeanine's idea for Jimmy's Jam.
Today, Jimmy's Jam to Stop The Clot® is an annual event that benefits the National Blood Clot Alliance. Each year, local musicians gather for a night of live music and dancing, all while raising awareness of deep vein thrombosis and pulmonary embolism. Through the event alone, Jeanine has educated hundreds of people about the signs, symptoms, and risk factors for blood clots, and she's raised more than $11,000 in just two short years.
Jeanine's hard work, positive attitude, and passion to make a difference has made our experience working with her so inspiring.  On behalf of everyone at the NBCA, please join us in congratulating Jeannie on this well-deserved honor.
---
Click here to return to NBCA's Volunteer Spotlight Page.