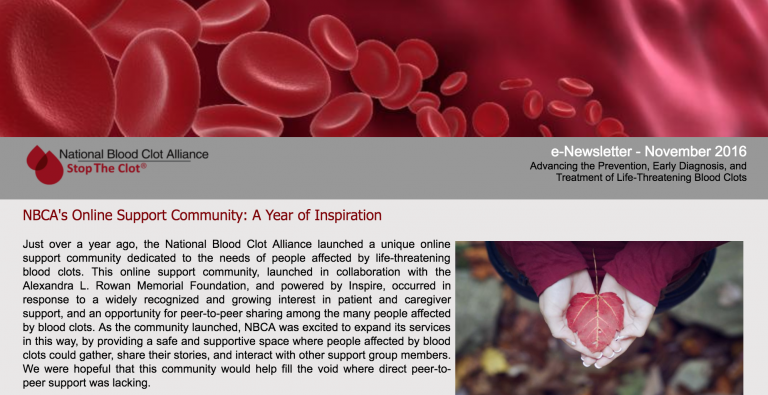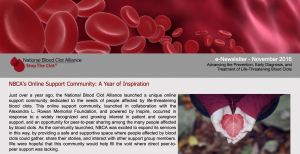 Our November e-Newsletter features the growth of one of our newest patient and caregiver services, our online discussion and support community. Just over a year ago, NBCA launched this unique online support community dedicated to the needs of people affected by life-threatening blood clots in response to a widely recognized and growing interest in patient and caregiver support, and as an opportunity for peer-to-peer sharing among the many people affected by blood clots. NBCA was – and still is – excited to expand its services in this way, by providing a safe and supportive space where people affected by blood clots could gather, share their stories, and interact with other support group members. We were hopeful that this community would help fill the void where direct peer-to-peer support was lacking, and we are excited to share that over the course of the last year, we have made great progress to do just that. We are also pleased to share a few quotes from some members – and social media followers – about what they are thankful for on our Stop the Clot® Web Wall of Recognition.
In addition, we announced very exciting news about how we are investing a portion of the resources raised during the recent Revlon's 2016 Love is On™ Million Dollar Challenge in our November e-Newsletter. Over the course of this recent six-week fund-raising initiative, our organization raised $25,000, thanks to the donations you made. As a result of your generosity, we are turning a portion of these funds into an exciting new opportunity for the organization to get information to a large and diverse group of people: For the next three months, we have a dynamic digital billboard in New York City's iconic Times Square.
On behalf of NBCA's Board of Directors, our Medical & Scientific Advisory Board members, and our staff, we wish you a Happy Thanksgiving and we thank you for all that you do to support our mission. You are what we are most thankful for this season.
Read our November e-Newsletter here. 
---
Connect with the NBCA on Facebook, Twitter, Instagram and Pinterest and share your thoughts about our November e-Newsletter.
---
Just in case you missed it, get all the latest news from our previous 2016 e-Newsletters.
---
Get the next e-Newsletter addition delivered right to your inbox. Send an email to info@stoptheclot.org and ask to be added to our mailing list.