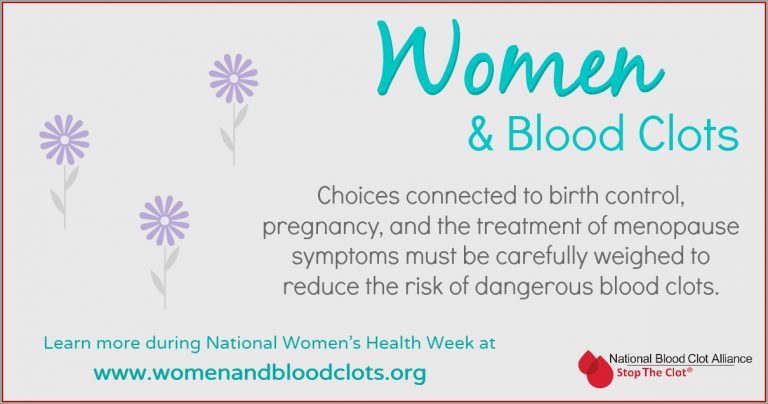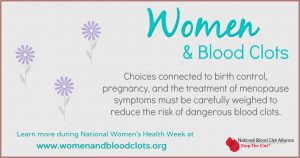 A Movement to Raise Awareness about Women and Blood Clot Risks
Join the movement during Women's Health Week May 8-14, 2016, and stand with the National Blood Clot Alliance (NBCA) as we share life-saving information about the important choices women make throughout their lives that increase their risk for dangerous blood clots. These choices are connected to estrogen-based birth control, pregnancy and childbirth, and menopause treatments. Each year, up to 900,000 people are affected by blood clots, and about 100,000 people will die because of blood clots. Too many lives are affected, and too many lives are lost because public awareness about life-threatening blood clots is so low. Study after study shows that fewer than a 1 in 4 people have any recognition of blood clots or their signs and symptoms.
---
What is  Women's Health Week?
National Women's Health Week is a special observance led by the U.S. Department of Health and Human Services Office on Women's Health. The goal is to empower women to make their health a priority. The week also serves as a time to help women understand what steps they can take to improve their health throughout the entire year. National Women's Health Week kicks off on Mother's Day, May 8, and is celebrated through May 14, 2016.
---
How can you help the NBCA raise awareness about Women and Blood Clots?
For Women's Health Week, the NBCA has partnered with the social media sharing platform
Thunderclap
to share one, united, life-saving message across social media sites you use everyday to let your voice be heard – Facebook, Twitter and Tumblr. Our message seeks to alert women – and the men that care about them – about how the choices they make throughout their lives can place them at risk for a blood clot, as well as help them recognize the signs and symptoms of blood clots. Click here to be directed to Thunderclap and sign up to be a part of this social media sharing initiative, which will automatically update the social media statuses of your preference on the day the message goes out, May 12, 2016 at 11:00 a.m. Eastern.
---
Together, we can make a difference to Stop the Clot®
Help us share this message – and crucial information about
Women and Blood Clots
– by sharing the Thunderclap link with your social media networks, family and friends. Like any message, the more individuals that come together to share it, the better the message is heard.
Together, we can take charge of our choices and our health and make sure our voices are heard to share this important message.
Join the Thunderclap Women and Blood Clots movement during Women's Health Week 2016 by signing up today. 
Click here to join or click the image below:
---
Please send an email to info@stoptheclot.org if you have any questions.
---
For more information about Women and Blood Clots, please visit www.womenandbloodclots.org
---
For more information about National Women's Health Week, please visit here.
---
For more information about Thunderclap, please visit here.