My name is Melanie Gravley, and I am 23.
This story is about my husband, Jamie Lee, who lost his life due to a pulmonary embolism (PE) in June 2012 at age 22.
We were together since June 20, 2007, married on Sept 3, 2010, and welcomed a son on May 20, 2011. We felt very blessed, and thought we had everything we could desire in our little family.
My husband complained of pain in his left leg in early June 2012. He went to the doctor, after feeling that leg pain for a week, and was diagnosed with a pulled muscle and sent home, where he seemed to get better after a few days of rest.
He returned to the doctor a week later, because he felt chest pain and had a cough, for which he was given an antibiotic for an upper respiratory infection, and sent home again. He seemed to get better for a few days, but he complained of worsening chest pain one day shy of the date that marked five years that we were together, June 19, 2012. We went back to the doctor, who continued to diagnose his symptoms of a respiratory infection that they treated with an injection, likely another antibiotic, and sent him home.
At home, we sat on our couch laughing together with our 1 year son, Jayson. Suddenly, Jamie Lee rushed to the bathroom because he felt the urge to throw up, and he collapsed before he got to it. My mother, who is a nurse, and I began cardiopulmonary resuscitation (CPR) and I called 911. Paramedics continued CPR and tried other measures to revive him, without success. My mother and I followed the ambulance to the hospital.
I was greeted by his mother at the hospital, and we were sent to a waiting room, where a doctor came in after about 30 minutes or so, and the look on his face said it all. The doctors tried everything they could to bring him back, but he was gone at the age of 22. His family had to tell his younger sister and her boyfriend that her big brother was gone. My mind went to straight to our son Jayson, who loved his daddy with all his heart, and was his daddy's boy.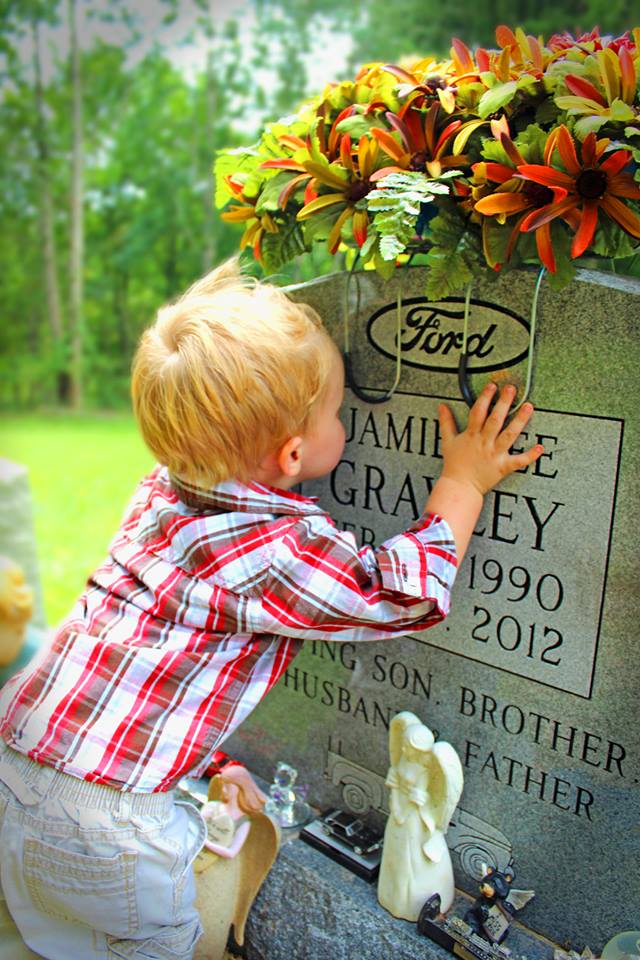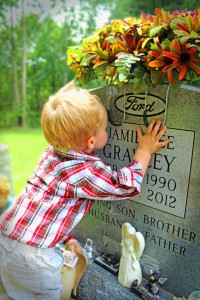 I was uncertain whether I should let our son say goodbye to his father, and decided he should, so I carried him to the casket, and his eyes lit up as he said "Dad Shh!" This is what Jayson would typically say when he saw his father sleeping. He touched his daddy's beard and signature Ford logo cap, and I told Jayson that we had to say goodbye to daddy, so he said "Bye bye, Dad." That was one of our more difficult moments.
The doctors think he likely had a deep vein thrombosis (DVT) in his leg that broke off and traveled to his lungs.
The church was filled with family and friends at his funeral.
His autopsy report stated that Jamie Lee had multiple pulmonary emboli (PEs) in both lungs that caused his death, something I thought happened only to older people.
My husband was a healthy young man who could walk miles and miles without ever getting tired, so I was shocked that this caused his death. There is no history of blood clots in other members of my husband's birth family, and no testing was done for blood clotting disorders.
I want to promote awareness about how PEs can be misdiagnosed and fatal, as I sadly learned with my husband's untimely death. Another friend of my husband died of complications from a blood clot to his heart, and I want to bring awareness about risk of blood clots in their memory. I've learned through this tragedy that blood clots kill people of all ages, and I want to prevent it from happening to anyone.
Take Home Messages
Blood clots can happen to young, seemingly healthy people.
Get care right away in the ER for chest pain or shortness of breath that don't go away.
It is not uncommon for a DVT to be misdiagnosed as a pulled muscle, and for a PE to be diagnosed wrongly as a respiratory infection.
The personal story is intended for informational purposes only. The National Blood Clot Alliance (NBCA) holds the rights to all content that appears on its website. The use by another organization or online group of any content on NBCA's website, including patient stories that appear here, does not imply that NBCA is connected to these other organizations or groups or condones or endorses their work. Please contact info@stoptheclot.org with questions about this matter.