Recognizing Blood Clot Awareness Month on Capitol Hill
"So You Think You Can't Get A Blood Clot? Think Again!"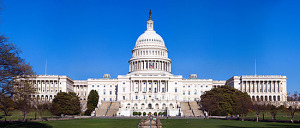 NBCA's first-ever Capitol Hill Briefing, was held March 14 in Washington, DC to recognize National Blood Clot Awareness Month.  I am delighted to report it was a grand success.  At this special luncheon event, NBCA imparted valuable, potentially life-saving information to Congressional staff and others and took a major step forward to establish its new public policy advocacy presence in our nation's capital. NBCA gratefully acknowledges Daiichi Sankyo, Roche Diagnostics, Alere Anticoagulation Solutions and Janssen Pharmaceuticals for their support of this awareness event.
The Faces of Blood Clots
The event opened with a backdrop of a photo collage of the faces of many of those who have shared their personal blood clot stories with us.  In introducing the event, I noted that I shared their experience as a two-time clot survivor.  Some of us live on, I explained, dependent on blood thinners and fearful of our next clot.  While others are no longer with us – men and women, young and old — their lives ended suddenly and far too soon. Sadly, I stated, among the nearly 1 million cases of blood clots that occur each year in this country, they proved fatal for between 100,000 and 300,000 Americans.
The good news, I indicated, is that many blood clot cases are preventable and tens of thousands of lives and billions of dollars in unnecessary health care costs could be saved. The bad news is that, despite blood clots being recognized by our government as a national public health priority, we are not adequately stepping up to the challenge.
The Blood Disorder Division of our nation's leading public health agency, the Centers for Disease Control and Prevention (CDC), remains woefully underfunded.  Instead of increasing support for programs to develop, refine and activate broad-based blood clot prevention strategies, the Division's funding has been cut by more than 35% in the past few years, without rhyme or reason.  Today, less than $600,000 is available to address a life-threatening disorder affecting as many as 900,000 Americans every year.  I argued that this made no sense, and that this briefing would focus light on this flawed public policy and what is needed to reverse it.
A Congressional Leader's Perspective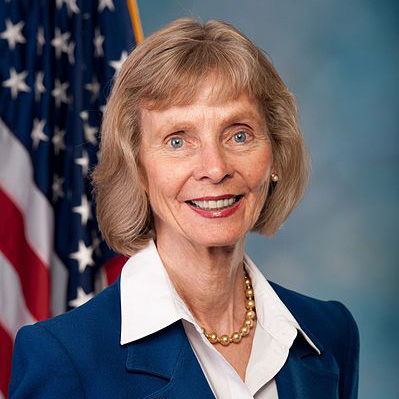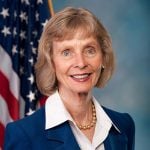 Joining in this call for heightened support for the prevention of venous thromboembolism (VTE) was Congresswoman Lois Capps (D-CA-24th).  She and Rep. Cathy McMorris Rodgers (R-WA-5th) co-sponsored a bipartisan congressional resolution in 2009 that established March as "National Deep Vein Thrombosis (DVT) Awareness Month." Recognizing the public's lack of familiarity with the term DVT, the recognition evolved to Blood Clot Awareness Month.  She reminded the crowd that her beloved husband, former Rep. Walter Capps, died suddenly in 2006 from blood clot complications, as did former Rep. Jennifer Dunn, a mentor and friend of McMorris Rodgers in 2007.
The Congresswoman explained that Congress can and must do more to address this leading reason for wasteful hospital readmissions that cost our nation $10 billion annually, and is the number one cause of maternal death postpartum.  She applauded NBCA's efforts to educate Congress on this important issue and vowed to partner with NBCA in its efforts to secure more funding to address this serious public health concern.
Understanding Blood Clots
Dr. Jack Ansell, New York University Professor of Medicine and Immediate Past Chair of NBCA's Medical and Scientific Advisory Board then provided an exceptional overview of the signs, symptoms, risk factors, treatment and prevention of blood clots.  In lay language, Dr. Ansell walked the audience through a considerable amount of information. He noted that blood clots have become a leading killer of Americans, in numbers far larger than are acknowledged because we need greater investment in surveillance and evaluation.
He explained that too often clots will be the cause of death but it will be attributed to the presence of other diseases like cancer and heart disease.  He also made the point that blood clots are among the most preventable deaths with: (1) improved awareness among patients and health care providers; (2) the application of effective prevention practices and patient safety protocols and (3) reinforcement of treatment adherence.  Recent findings by researchers at The Johns Hopkins University, an article highlighted elsewhere in this newsletter, suggest that as much as 70% of health care associated VTEs (i.e., those resulting from a hospital stay or post-surgery) can be averted.
Blood Clots Do Not Discriminate by Gender, Age, Race, Ethnicity or Health Status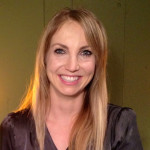 Those in attendance then heard about the human toll of blood clots from a panel of individuals with first-hand knowledge of their impact.  Olympic Speedskater Rebekah Bradford, who represented Team USA in Vancouver in 2010, shared how a fit Olympic athlete could succumb to a bilateral pulmonary embolism (PE) which caused partial destruction of her lungs and threatened her life.  Her story was one of denial, great pain and perseverance.  In the two years following her illness, while still recovering, she underwent double knee surgery in her quest to make Team USA for the 2014 Olympics recently held in Sochi.  She missed making the team by one-tenth of a second but has certainly earned NBCA's Gold Medal for dedicating herself to blood clot awareness, especially among young women.
Jennifer and James DeBouver, both recent Army veterans, brought tears to the eyes of many in attendance as they told the heart-wrenching story of their newborn son Asher.  He survived risky in utero surgery to address aortic stenosis only to develop thrombosis (blood clots) that took his life at six weeks of age.  The DeBouvers have dedicated themselves to the cause of advancing the diagnosis, treatment and prevention of blood clots and heart disease in children.  Read more about them in a separate article in this newsletter and watch their presentation.
The mood was somber after hearing Asher's story, but Mark Hackley and Tim Burland, both musicians and blood clot survivors, lifted our spirits by presenting their stories through music.  Playing guitar and bongo respectively, they sang a song Mark wrote called "Blood Clot Blues."  They educate their audiences about blood clots by closing their shows with a word of warning, and singing the song to raise awareness of the signs, symptoms and risks of blood clots.  Mark's blood clot was attributed to bending in tight fitting new boots and Tim, who also works as an insurance assessor, was told his clots were probably due to prolonged immobility while driving hundreds of miles daily to assess damage claims.
Former NBCA President and leading health care advocate Randy Fenninger, another PE survivor, addressed more specifically the federal government role in reducing the prevalence of blood clots.  He noted that in 2008 the U.S Surgeon General published a Call to Action to Prevent DVT and PE.  He explained that a previous such Call to Action set into motion the major federal campaign to promote smoking cessation.  He argued that our government must address blood clots similarly.
He explained that blood clot prevention is a stated priority in the nation's "Healthy People Objectives" to be achieved by 2020 and that the U.S Agency for Healthcare Research and Quality (AHRQ), the Partnership for Patients and the Centers for Medicare and Medicaid Services have all acknowledged the importance of these objectives as well.  Yet federal funding for the agency that should be leading and coordinating our nation's efforts to address blood clot surveillance, evaluation, awareness building and prevention strategy development is diminishing and stands at a mere $560,000 at present.  He called spending so little to deal with a highly preventable disorder that costs the nation nearly $16 billion in healthcare costs each year both "illogical" and "embarrassing."
On behalf of those represented by NBCA, he called on policymakers to:
Restore $6.9 million in cuts to the Division of Blood Disorders in FY 2015 to, at a minimum, return the Division to its FY 2010 level of $19.9 million.

Establish a new, specific funding line for blood clot related programs and provide minimum funding of $4 million annually for this line over the next five years.

Support surveillance, prevention and education to prevent blood clots and allow the CDC to reclaim its leadership in this important public health area that will grow with the aging of our population.
The Briefing then included an active question and answer session, with many excellent questions posed by members of the audience and answered by various speakers.  NBCA President Kathy Smith concluded the briefing.  Her remarks summarized key messages and urged audience members to join NBCA in its efforts to promote an adequate national response to this public health challenge.
This was NBCA's first official foray from its new home into the national public policy arena, but all participants – speakers and audience alike – left the event knowing that it would not be the last, and that each of them could play a role to ensure adequate public health spending to reduce blood clots.