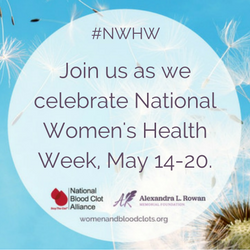 This May, our e-Newsletter is packed with exciting information. In recognition of Women's Health Week 2017, the National Blood Clot Alliance is partnering with the Alexandra L. Rowan Memorial Foundation to provide women with essential information about birth control and blood clot risks, and to encourage them to visit Women & Blood Clots. At this website, on the Resources Page, women will find a risk assessment tool to help them determine, along with their doctor, their risk for blood clots and their best contraception options.  
If you are on social media, please sign up for our Thunderclap effort, taking place on May 17. Our goal is to enlist 100 people to sign up now and combine their voices on social media to amplify our crucial educational message that day. It's easy and safe to sign up for this Thunderclap initiative, and you can do so here: NBCA Thunderclap. Also, we encourage you to visit NBCA's social media channels regularly throughout the month, and share the new content we will be providing there daily with your own social media networks.
In this edition of our e-Newsletter you can also read more about how you can help NBCA with educational message testing, the "Celebrating A Year Without a Stroke" Twitter Chat, and our new "For Every Day in May" fundraising campaign.
---
Read our March e-Newsletter here.