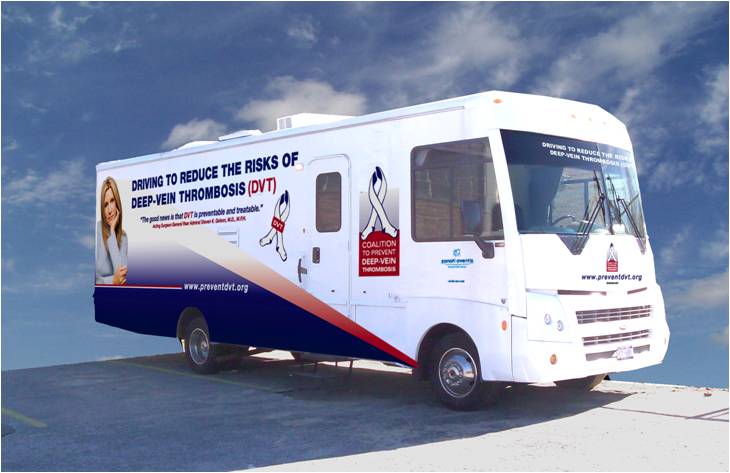 Minneapolis, MN, May 6, 2009 – In response to the national growing concern about deep vein thrombosis (DVT), the Coalition to Prevent DVT bus is touring the country creating DVT awareness. The bus makes a stop in Minneapolis, MN on Tuesday, May 12, 2009 on the University of Minnesota campus, Deihl Plaza, from 9:00am – 2:00pm.
Individuals are invited to stop by the bus to learn about DVT and their personal risk. Nurses will provide risk assessments and information about clotting and clotting disorders.  There is a special presentation beginning at 11:30am.  Melanie Bloom, former NBC correspondent David Bloom's wife, and Dr. Mark Reding, Assistant Professor  and Director of the Center for Bleeding and Clotting Disorders,  will discuss DVT and share personal experiences. This event is in collaboration with the Coalition to Prevent DVT, the University of Minnesota Medical Center and the National Alliance for Thrombosis & Thrombophilia (NBCA).
Deep-vein thrombosis (DVT) is a common, serious condition occurring when a blood clot forms in a leg (usually). A complication of DVT, pulmonary embolism (PE), occurs when a blood clot moves into the lungs, causing blockage and possible death. This silent killer strikes nearly 400,000 people a year (NBCA).
NBCA is a patient-led and science driven advocacy organization providing patient education and professional training on the signs, symptoms and prevention of blood clots and clotting disorders. NBCA combines the unique perspectives of healthcare providers, individuals afflicted with clotting disorders and community leaders who are passionate about this healthcare crisis.
Several hundred thousand Americans die each year from blood clots in the veins. Most of these lives could have been saved if more patients and health professionals had known about the symptoms, risks and treatments.
NBCA has joined forces with the CDC, US Surgeon General and other voluntary health agencies to promote
education, diagnosis and treatment of blood clots.
The US Surgeon General estimates that in Minnesota, blood clots will strike more than 10,000 people each year, resulting in over 1,700 deaths, most of which are preventable.  Information released recently from the Mayo Clinic provides significantly higher estimates for Minnesota, with blood clots striking more than 15,000 people and resulting in over 5,000 deaths.
The mission of the National Alliance for Thrombosis & Thrombophilia is to prevent, diagnose and treat thrombosis and thrombophilia through research, education, support and advocacy.  For additional information about clotting disorders or the activities of the NBCA-MN Chapter, contact Chris Pulkrabek by e-mail to  cpulkrabek@stoptheclot.org or by telephone at 651-324-3169.