NBCA Survey Shows Gaps in DVT/PE Prophylaxis Among Hospitalized Patients
Data Demonstrate Patient Awareness is Low, Despite Increased Risks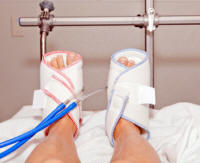 Data from NBCA's online survey of 500 patients who had been hospitalized for >3 days, show that less than one-third of respondents report DVT prophylaxis with either an anticoagulant pill or anticoagulant injection, even though more than 40% of them report that they had a family member who previously had a blood clot in the leg or lung, and 15% say they had a personal history of a blood clot in the leg or lung.  DVT prophylaxis reported by respondents include:  63% ambulation, 39% compression stockings, 37% mechanical compression, 37% aspirin, 29% anticoagulant injection, and 28% anticoagulant pill. These survey findings are compelling, because they demonstrate the gaps that need to be filled to optimize use of evidence-based DVT/PE prophylaxis, as well as the need to better inform or educate our hospitalized patients about potential risk factors.
Risk Versus Awareness – Read More…
General Public Vs. At-Risk Oncology and Hospitalized Samples  – Read More…
Hospital Findings Quick Facts – Read More…
Survey Methodology – Read More…
The NBCA DVT/PE Awareness Survey was made possible by a grant from Ortho-McNeil™, a Division of Ortho-McNeil-Janssen Pharmaceuticals, Inc.