2018 NYC TD Five Boro Bike Tour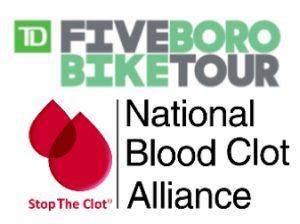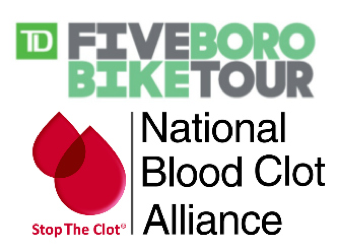 2018 TD Five Boro Bike Tour
The National Blood Clot Alliance (NBCA) is excited to announce that we've been selected to participate in the 2018 TD Five Boro Bike Tour Charity Program. It's the first time that Team Stop the Clot® will cycle through the streets of New York City.
The TD Five Boro Bike Tour is the largest charitable bike ride in the United States. Join us on May 6, 2018 along with 32,000 cyclists of all skill levels as we bike 40 miles through each borough of New York City on streets totally free of cars. For one day, the roads are yours, the bridges are yours, and yes, the city is yours! There is no better way to experience the Big Apple and no better team to experience it with, than Team Stop the Clot. Don't have a bike? That's okay! Check out Bike New York's rental resources.
Interested in crossing the finish line with us on May 6 as a part of Team Stop the Clot's first official cycling team? Apply below!
Why Join Team Stop the Clot®?
Beyond a doubt, we're one of the most supportive, energetic and fun charity teams. Sporting red polka dot shirts and other team gear, you'll see us throughout the U.S. increasing blood clot awareness at 5Ks, 10Ks, Marathons and now, cycling events! Our shirts inspire questions. Our team members have the answers.
As a member of Team Stop The Clot your benefits include:
A Team Stop the Clot cycling shirt and other Team Stop the Clot swag
Bike-day breakfast and lunch
A start area pass
Contest prizes for fundraising successes
Additionally, our Team Stop the Clot Facebook page offers fundraising guidance, training tips and camaraderie from NBCA staff and fellow Team Stop the Clot athletes.
Applications are now being accepted for ten TD Five Boro Bike Tour entries for Team Stop the Clot. Each accepted team member will be expected to raise a minimum of $750.
Please complete the application and email it to jelkin@stoptheclot.org or fax it to (781) 784-5531. Applications will be processed in order of receipt. You will be notified of your acceptance to Team Stop The Clot within two weeks of receipt of your completed application.