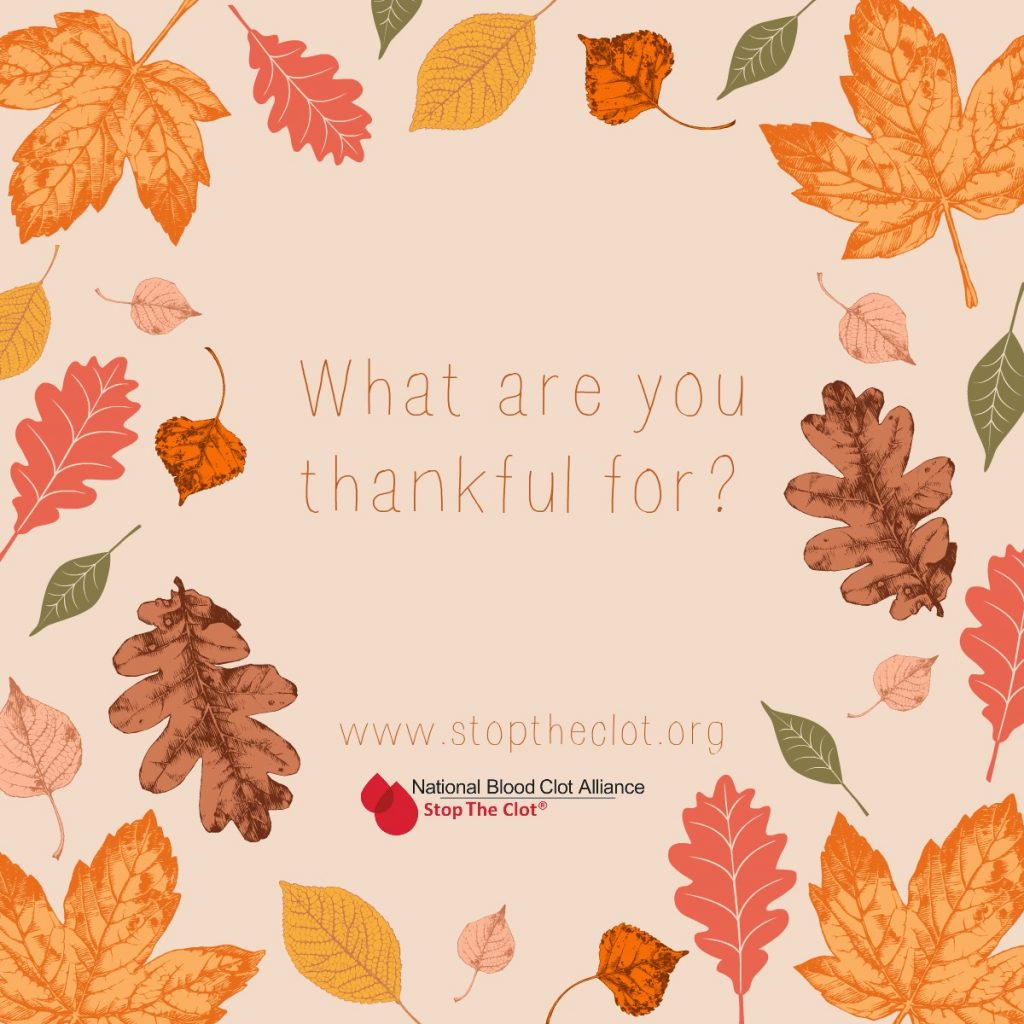 As we approach the holiday season, we begin to reflect on the past year, and gratitude is something in particular that many of us ponder, despite the various challenges we face. Recovery from or loss because of a blood clot can be extremely difficult – and sometimes it can be just as difficult to find something to be thankful for – yet, by reflecting on gratitude, we are sometimes reminded that there are positive and powerful things to be thankful for in our lives. In an effort to illuminate these positive messages for others to see, NBCA reached out to the members of its Inspire Online Discussion Community, as well as its social media channels, to find out what our community is most thankful for. Find out what you had to say.
What are you thankful for?  
This is definitely a very stormy season in my life. I am four months post-kneecap fracture and DVT. For quite some time I was hearing from loved ones around me that I was getting better, but inside I kept thinking I do not feel better at all. Today I can say that I am so thankful for the progress I have made and for feeling better and stronger. My DVT swelling is finally giving me some days of reduced swelling and pain, which feels amazing. It is still hard and I really have learned to appreciate the baby steps of improvement. I hope anyone who is still in the dark cloud of their recovery will always hang on to hope and know it will get better. I am thankful for many answered prayers, family, friends, many blessings, and for the Inspire online support community to share and learn. An early Happy Thanksgiving to all! -D.H.
I'm grateful to still be alive and on my recovery/adaptation path. I am extremely thankful to have stumbled upon www.stoptheclot.org as well as www.bloodclotrecovery.net since those two sources have been the greatest source of non-medical information I have found. Most of the other information that I could find on DVT, warfarin, blood thinners, etc was focused on a very different demographic than my own which was a bit isolating. As odd as it sounds, if I wouldn't have had the two blood clots, I doubt I would be pursuing the education and professional opportunities that I am currently. So, in a bizarre way, I'm grateful that the clots provided an opportunity for me to shift gears. Knowing that extensive travel can increase my risk of additional clots, as well as the need to have my INR checked monthly, was a signal to me that I need to pursue a career that is less travel intensive. So, after some research, consulting with my brain trust (closest advisors and friends from over the years), I decided to finish my undergraduate degree and take the steps needed to pursue a career as a lawyer. -Cam
Although I'm not thankful for yet another clotting episode in our family, extremely thankful that all is now well – and for the amazing advances continually made in medicine, and significantly increased awareness of clots. – Maria
I'm thankful for my wonderful husband, my amazing Mom, my beautiful children, and a supportive community of people who I've been blessed to learn from and go through my clotting journey with. –Debra
I am thankful for all the support, information and care from doctors, nurses, lab techs, pharmacists, and online support groups who share about DVT and PE blood clots, life on Warfarin and recovery experiences. I'm so grateful to be alive and well today, walking each day in nature with my dogs, family and friends. It's so wonderful to be crunching leaves by the river in nature. – Lollie
I'm thankful for the ER doctors who caught my PE. The urgent care didn't. If not for the ER doctors, I wouldn't be here today. – Rob
Everything ………..God has given me. – Rain
I am thankful for my health and recovery. – MrsFightingFit
After being diagnosed with a CVT at age 28, I'm grateful for the perspective I've gained on the important things in life. – Rosalind
I am thankful for getting a second chance to live life in a more meaningful way. – Brittany
I'm thankful to be a two time maternal near miss survivor (PE/ PPH) and able to watch my son grow up! I'm also thankful for opportunities to share my story so I can encourage others in the midst of their own battles. My hope is that as more of us come forward, we can affect policy and protocols so other women do not go through the same near death experiences related to childbirth. – Casey
I am thankful for being a two-time blood clot DVT survivor. I've been told that I have a deficiency that makes recurring blood clots likely, but with medication that is less likely. Despite this bad report, I am thankful that no matter the report, I can live a quality/quantified life through my faith in God in eternal life. – 2cool4bmc
I'm thankful to be alive after being diagnosed with DVT in half my leg and PEs scattered throughout my entire two lungs. I'm thankful God kept me here to experience my best friend's wedding, being told I'm going to be an auntie, and getting to marry my soul mate just two weeks ago. – afoutz_1022
Within the last month and with a change of doctors, I was admitted into the hospital with 'an immense number of blood clots in all 5 lobes of my lungs.' This has left me with so many reminders of how blessed I truly am. I am grateful for doctors that listened and figured out what has been causing my issues with breathing, heart and blood pressure. For all my friends, family and co-workers who stepped up to help care for me, pray for me, and covered for me… and who are still there now any time I need help. For my beautiful grandchildren that give me a reason to fight this. I have more than just a desire to live, I want to watch them grow up. I am most grateful for my faith… with my guardian angels and higher power. With the many prayers and positive thoughts sent my way, I am surviving and living my life with a new appreciation! – Michele
---
More Ways to Connect
Follow NBCA on Facebook, Twitter, Instagram and Pinterest.
Join our online discussion community.