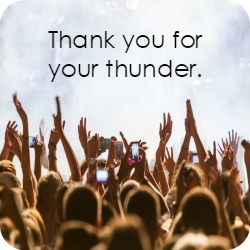 Thank you for helping the National Blood Clot Alliance raise awareness about blood clot risk during Blood Clot Awareness Month (BCAM). We partnered with the social media sharing platform Thunderclap to share one, united, life-saving message across social media on Friday, March 24. That message read: Once every six minutes, someone dies from a blood clot. Don't let that one person be you. Know your risk. #BCAM
It was our goal to enlist 250 people to share this message across social media. Thanks to you, we had 377 people sign-up, which was 150 percent of our goal. With your support, this message was shared with 257,508 people across the social media platforms you use every day – Facebook, Twitter and Tumblr.
Perhaps most importantly, there were 6,287 clicks to our website – Stop the Clot, Spread the Word™ – where people have direct access to life-saving information about blood clots risks, signs and symptoms, and prevention.
Blood clots can be dangerous, but they can also be prevented. Now, because of you, even more people know about the risk factors, signs and symptoms of blood clots and knowing this information helps to saves lives.
Thank you to everyone who supported this effort:
Patient
Haidji
Sign Against Stroke
The PreschoolToolbox
Thrombosis Adviser
Juls~It'sJustABadDay
FoggyBottomGal
World Thrombosis Day
Darren Lee Mitton
NBCA
Brian Mccuish
Elaine
#DigitalHealth
Molly
Lifeblood Charity
Theresa
Whitney Franklin
Chronic Sex
Dobby512
Jeff Anderson
Bec Bushell
Amaris White
Lisa Fullam
Nakia D. Morgan
BCRN
Tina Pohlman
Cam McIntyre
Empowering Patients
Lisa Lorenti Hescox
Stacey Schule Boheman
Peter Marcus
Kimberly Morgan Bossley
LiverWife
Tina Pohlman
Marji Bishir Hill
Tarin Patrikis
Becky Compton
Eric O'Connor
Mimi MacKinnon
Debra Ann Payne
Fiona Hyman
Brian Casabal
HHS OASH Region II
Kieran Casey
Bucks Public Health
Aya Yassin
Jenni Ferris
Carmine Sica
Julia Megan Sullivan
Christian Rogers Gragg
Caitlin Augustine
Karen Seymour
Theresa Grace Sunshine
Lisa Marie
Jake Mchugh
Alyssa Yankwitt
Jennifer Wohlenberg
Jennifer Conti
Darren Lee Mitton
Annemarie Lincoln
Gina Elphick
Keri Hudak
Tandra Wilkerson Williams
Notstandingstillsdisease
Mary Shelton
Andrea Zalzal Sanderson
Jodi Shaffer Nelson
Tina Hauck
Rod Sharod McQueen
Sheila Bourassa
Becky Hessick
Cheryl Gunderson Strauss
Dan Jensen
Amy Westhoff Sansone
Jessica Stanley
Natasha Black Marko
Traci Patton
Theresa Kieley
Beth McLaughlin
Mike
Alma Karina Jimenez
Gale Hellpap
Hannah Knox
Laura Michelle Lichoff
Barbara Krolak
Kevin Wheeler
Angela Oppido
Aaron Tweedy
Terri Meade
Brittany Smith
Amy Westhoff Sansone
April Brownlee
Todd Robertson
Annemarie Lincoln
A H K
Nicola Banner
Darla Hutson
Kristina Marie
Tracy Chirchirillo Hitchins
Tamara Lynn Hanson
Cyndi Walker
Shannon Morton
Molly Reinke
Maricatherine Carson Mullaney
Marie Ange Achille
Dave Pennington
Stacy Krumm Schweighart
Arthur
Tammy Arana
Tracy Hitchins
Mary
William Hakīm Anderson
MarkandMelinda Ammons
Melanie Payne Polk
Susan Ashley
Laura Contratti Pitois
Jude Bee-Dubya
Kim Baldwin
Jennifer Hall
Christine Proch
Candi Morgan Hoffman
Michelle Mackey Miller
Meredith Mosher
Karen Gorentz
Kevin Wheeler
Shelley-Anne Scarff
Tasha Chapman
Angela Shook
Sonja Rusnak
Giovanna Garrido
Maia Howell
Melanie Minnix Duarte
Geri Dyer
Darren Organ
Cheryl Leutzinger Smith
Judi Kaplan Elkin
Katina Nguyen
Kim Maki Griesbach
Sharon Turney
Sally Hardy
Maricatherine Carson
Barbara Nibbe-Bushell
De'Shawn C. Spears
Amy Bollmann-Hahn
Diana Myers
Sandy McShane Mastrullo
Lisa Anderson
Jayme Cousins
April
Lesley Rigney
Barbara Blaser
Larissa Jensen
Erica Zuercher
Jamie Fitzpatrick Cook
Mary Rose Uriarte
Margaret Walsh
Jackie Barnard
Charmaine Lorraine Jensen
Julie Borgmann
Lauren Flanagan
Crystal Keck
Kim Quick Kolzow
Natalia Martínez
Lorrie Hollis Payne
Melissa VandenBerg
Sandra Horton
Christina Scott
Kelly McGuire Fanin
Kristen Stucky
Jacky Stevens
Denise Englert
Heather Malcolm
Karen Grove
Trisha Marple
Stacie Gerhold Thomas
LoryAnna M Raine
Jean Begley
Tara Joan
Amanda Syme Scott
Kim Blois Halloran
Ange Ja
Cynthia Basham
Tyson Colvard Goddard
Casey Cattell
Julia Megan Sullivan
Sonja Rusnak
Denis Rochon
Louise M. Bannon
Jennifer Tucker
Pam Williams Rush
Ann Pierce
Nicky Hatch Gidigbi
Sara Tustain
Melissa Scott
Becky Varner Hamann
Beth Foltz Keaton
Amy Lynn
Angela Zawatski Stanski
Maria Boyer
Michelle McCaslen Lilly
Cindy Prew-Hennen
Jill Houck-Helgemo
Sue Bucina
Patricia Walker
Lisa Geist-Kelly
Lisa Sabinske Laurence
Carolyn Dwyer
Lisa Sweeney
Donna-Lee Heaps
Oscar Ings
Nichole Cisneros Yeager
Jenni Ferris
Kristin Gay Pettibone Bohna
Molly Walkup
Jeni Streeter
Ashly Rivera
Kristen Laudick
Erica Zuercher
Whitney Franklin
Sue Moreland
Stacy Eubank
Steve Robinson
Charmaine Lorraine Jensen
Heather Cleland
Stephanie McLane
Tammy Brubaker Polozune
Eva Kruchio
Lauren Elizabeth
Patty Nece
Daniela Patriarca DeVita
Kathryn Bartholomew
K.m. Kolsch
Brandy Davis
Kimberly Patterson Widhalm
Melissa Pelley Hinojosa
Mona Ganze
Susan Elizabeth
Linsey Myers
Michele Skelly
Nick Gardner
HealthWeb Navigator
Karen Seymour
Linda Anglebrandt
Anice Edmunds
Sarah-jane Aza Shields
Larry N Heather Kavanaugh
Chrissy Allen
Laura Femia Buccellato
Amanda Snow
Kirsty Watson
Steven Barea
Bill Phythyon
Patty Nece
Deanna Dixon
Phil Begley
Debra Turner Bryant
Tracie Ann
Jill Wilson
Andrea Clouse
Kelli Loveless Fronius
Anita Bancroft
Nicole Brown
Gretchen Dunham
Millicent Ngo
Ted Crum
Dayna Hildreth
Carolyn Rogers
Marianne
Penny Lee Millis-Peters
Amanda Madden
Mon Elston
Joyce Ann Nebrida
Cheryl Cottrell
NDCPD
Alanna Marie
Nat Norris
Tabitha Dona
Cheryl Barttels
Emma Ings
Carole Bennett
Melanie Saunders
Lorna Flynn
Alex Conrad
Jameela Baker
Ashley Pimentel
Anne Cloud
Tamara Lynn Hanson
Linda Chaples-Wheeler
Kris Ritter
Louise Florio
Sarah Smith
Jacki Reeve
Sara Wyen
Janne Cassidy
Tanya Mejorado
Carol Jaggi
Meghann Capodanno
Leanne Peel
Sarenah Lucero
Kathy Smith
Amelia Redman
Avril Jenkinson
Becky Schreib
Cam McIntyre
Michelle Davis-Moore
Ed Ticknor
Lori Klang
Karen van der Veen
Hailey Rutherford
Deb Ekstrom
Lindsey Brown
Tania Brierley
Richard Kemmer
Suzanne Colborn Harper
Amy Westhoff Sansone
Caroline Griffiths
Heidi Angeli-Dudley
Jennifer Wickens
Karleen Younger
Nicole Mitchell Davies
Tanya Genest
Jo Pearson
Jennifer Breslau
Tabitha Carman
Irene Bulgar
Kristin Rob Barry
Kirstine Clark
April Ikard
Tammi Wood Brader
Karen McCrorie
Tamara Bailey
Charlotte Trussler
Amaris White
Karen Langley
Mark Edwards
Tricia C Lepore
Kristen Linscott
Janette Brown Was Booker
Penny Goethe
Mel Gaskin
Mary
Heather Davidson
Brittany Lopez
Jim Roberts
Sharlene Magana-Ramirez
Jessica L Spindler
Michelle Hoffman
Rysa Ray
Jeffry Salvaggio
Marianne
Jan Schmidt
Janet Eastwood
Donna Livingston
Lisa Mann
Kay White
Liesl Hopkins
Jacque Soaper
Cathy Campigno
Judi Kaplan Elkin
Marianne
Maia Howell
Sally Hardy
Carolann
Peter Marcus
Polished Pevil
Margaret Walsh
A H K
Mike
Laura Michelle Lichoff
Maia Howell
A-Doe
Katelyn Mars
Mrsrzeznik65
Jessica Camacho
---