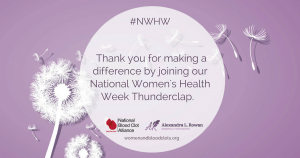 Thank you for helping the National Blood Clot Alliance raise awareness about birth control and blood clot risks during National Women's Health Week 2017. We partnered with the social media sharing platform Thunderclap to share one, united, life-saving message across social media on May 17. That message read: Hormonal birth control is a risk factor for life-threatening blood clots. Learn more. #NWHW http://thndr.me/zIWSmy
It was our goal to enlist 100 people to share this message across social media. Thanks to you, we had 117 people sign-up, which was 117 percent of our goal. With your support, this message was shared with 60,330 people across the social media platforms you use every day – Facebook, Twitter and Tumblr.
There were 696 click-throughs to our Women and Blood Clots Resources Page where women have direct access to life-saving information about how the choices they make about their health can place them at risk for a blood clot, especially if they are taking or considering taking hormonal birth control. Now, because of you, more people know about the risk factors, signs and symptoms of blood clots and knowing this information helps to saves lives.
Thank you to everyone who supported this effort:
Kelly French
The National Blood Clot Alliance
Beth Sellers Landis
Chronic Sex
Meg Henry
Amaris White
LaDawn Hammers-Holt
Lisa Fullam
Blood Clot Recovery Network
Shawn
Lilly Stairs
LiverWife
Donna Clark Coleman
Tarin Patrikis
Mimi MacKinnon
Carolyn McKinley White
Jenni Ferris
Amy Millard
Britney Moton
Marialaina Nissenbaum
Chrissie Chambers
Lauren Suggs
Theresa Graf
Maria Schilling
notstandingstillsdisease
April Helms
Janet Turley
Alma Karina Jimenez
Desiree Vasquez
Karen Allen-Johnson
Shanna Christen
Marla Cristina Matos
Maricatherine Carson Mullaney
Kristy Kline
JJ Linder
Tamara Lynn Hanson
Mark and Melinda Ammons
Susan Ashley
Christine Proch
Katina Nguyen
Mary
Angela Shook
JoAnna Newman Williams
Maricatherine Carson
Kim Maki Griesbach
Judi Kaplan Elkin
Maria Cortez
Melissa Smith Protheroe
Kim Straughter
Priscilla M. Pastrana
Charmaine Lorraine Jensen
Julie Borgmann
Jessica Bailey
Jacky Stevens
Dawn N John Burzynski
NBDPN
Trisha Marple
Louise Broughan
Cathie Tibbetts
Shawna Newsome
Patty Nece
Christina True
Kerrie Williams
Jaquelyn Lorraine
Sue Bucina
Thaisa Infurna
Lisa Geist-Kelly
Dru West
Jeni Streeter
Jenni Ferris
Steven-Nicole Shull
Charmaine Lorraine Jensen
Alyssa Giammatteo
Jessica Lowry
Colleen Marie
Larry N Heather Kavanaugh
Adrienne Smith
Anice Edmunds
Leslie Smith Pennington
Patty Nece
Deanna Dixon
Debra Turner Bryant
Natalie Hutcheson
Catherine Whiting
Mercedes Greene Gibney
Randolph Fenninger
Leslie Ponciano
Anne Cloud
Sara Wyen
Tamara Lynn Hanson
Angela Howie
Calming Touch
Kathy Smith
Becky Schreib
LaToya Bourliea
Theresa Grinstead
David Rowan
Ascher Derwent
Debby Poort
Nicole Mitchell Davies
Ruth Grierson
Angelleaic Myers
Lauren Wells Holden
Amaris White
Carol Jordan
Alice Wall
Mary
Ms Taurus
Sarah Williams
Carolann
Jamie Cloutier Shine
MimiMacK
Trista Bilmer
Maria Schilling
---
Connect with NBCA on Twitter, Facebook, Instagram, and Pinterest as StoptheClot®.
---