The National Blood Clot Alliance is honored to have its website, as well as several of its educational products stemming from its cooperative agreement with the Centers for Disease Control and Prevention (CDC), chosen for use in a new compendium of venous thromboembolism (VTE) resources developed by The Joint Commission.
The Joint Commission is a nonprofit organization that accredits and certifies thousands of healthcare organizations and programs nationwide. They are dedicated to improved healthcare for the public, in collaboration with other stakeholders, by evaluating healthcare organizations and inspiring them to excel in providing safe and effective care of the highest quality and value. Joint Commission accreditation and certification is recognized nationwide as a symbol of quality that reflects an organization's commitment to meeting certain performance standards.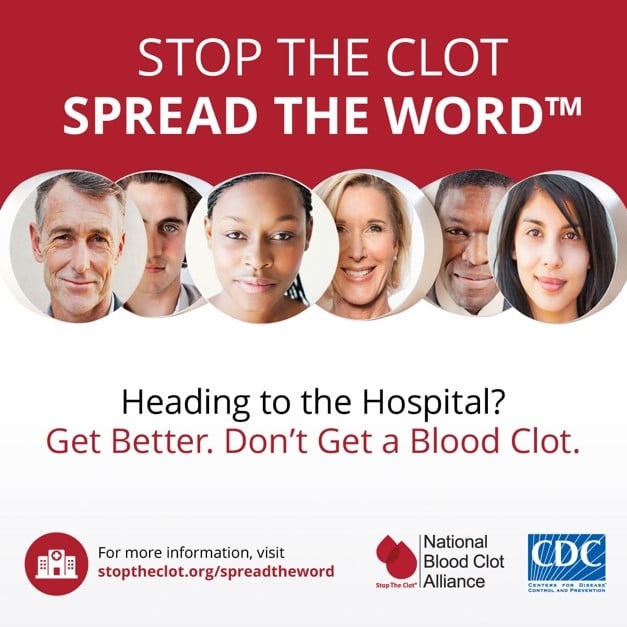 Specifically, the new compendium of VTE resources introduced by The Joint Commission includes NBCA's signature Stop the Clot, Spread the Word™ initiative, a program funded through our cooperative agreement with CDC. Specifically, the compendium includes links to the campaign's general patient education infographic and also the educational video for hospitalized patients. In addition, NBCA's online curriculum for healthcare providers – Stop the Clot® – What Every Healthcare Professional Needs to Know – is another project that stems from our collaboration with CDC that will be included.
NBCA's website — www.stoptheclot.org — is also shared in the compendium, with special note made relative to three key sections of the site:  About Clots, Patient Stories, and Resources for Healthcare Professionals.
NBCA is honored to have this work included in this important new Compendium of Resources, and applauds the efforts of The Joint Commission to provide guidance to clinicians and other health educators looking for reliable and up-to-date patient education and discharge materials for VTE and anticoagulation therapy.
Discharge instructions for VTE have typically included medication management recommendations related to the use of warfarin. In recent years, however, a growing number of alternatives to warfarin, such as direct oral anticoagulants (DOACs) and other anticoagulants are being more widely used. It is important that patients discharged on any anticoagulants receive clear, comprehensive, and up-to-date education and discharge instructions.
To learn more about the provision of patient education and discharge instructions for patients discharged on DOACs and other alternatives to warfarin, The Joint Commission embarked on an 18-month research project, with funding from Bristol Myers-Squibb / Pfizer, Inc. This project aimed to determine what, if any, patient education materials are being provided to patients discharged on anticoagulants other than warfarin. As a result of this work, the new compendium of resources was compiled with links to publicly available resources to promote the provision of reliable and current patient education and discharge materials for VTE and anticoagulation therapy.
NBCA resources included in this compendium of resources appear at the links below:
To access the free Compendium of Resources, please visit The Joint Commission's Department of Health Services Research website.
For more information about this work, please contact Leslie Lake: llake@stoptheclot.org.