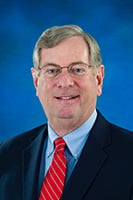 Randy Fenninger to Lead Organization With Strategic Focus Aimed at Increasing Recognition of Life-Threatening Blood Clots and Their Impact on Public Health
Rockville, MD – August 20, 2014 – The National Blood Clot Alliance (NBCA), a nonprofit advocacy organization dedicated to advancing the prevention, early diagnosis and successful treatment of life-threatening blood clots, announces the appointment of Randy Fenninger, JD, as its new Chief Executive Officer (CEO). Fenninger, who takes the helm at NBCA on Monday, August 25, 2014, was selected following a rigorous national executive search by the organization in recent weeks.
"We're very pleased to announce this appointment," says Kathleen Smith, President of NBCA's Board of Directors.  "Randy's skills in health policy and nonprofit management align perfectly with NBCA's needs at this pivotal time.  He brings a combination of professional experience and personal perspective that we know will yield tremendous new opportunities for our organization and for the diverse spectrum of constituents we serve."
Fenninger is uniquely qualified to help fulfill NBCA's goals.  Before joining NBCA, he was a Principal with Creek Crossing Advisors, LLC, where he specialized in healthcare law, legislation, regulation and policy.  Prior to that, he was a Senior Policy Adviser at Holland & Knight, where he managed a wide spectrum of healthcare legal, legislative, regulatory and policy matters of interest to large corporate and association clients, including physician organizations and healthcare systems. Fenninger also was co-founder of MARC Associates, a boutique healthcare government relations firm, where he served as president for many years.
Fenninger, who survived bilateral pulmonary emboli (blood clots in both of his lungs) several years ago, also served NBCA for nearly 10 years in a volunteer leadership capacity, as a committee member, board member, and board president.
"I look forward to working with members of NBCA's Board of Directors, its Medical & Scientific Advisory Board, the organization's talented staff, and our many dedicated volunteers to advance NBCA's mission," Fenninger says.  "Going forward, NBCA's work will contribute to a marked increase in the awareness of dangerous blood clots and greater recognition of their impact on public health.  This is an immensely important undertaking, given the aging of our nation's population, as well as the growing emphasis being placed on improved healthcare outcomes and reduced healthcare costs."
In the months leading up to Fenninger's selection as NBCA's new CEO, the ongoing advocacy efforts of the organization were led by Interim CEO Joseph Isaacs.  NBCA's Board of Directors extends its sincere appreciation to Mr. Isaacs for his important contributions during that transitional time.
NBCA is a non-profit, voluntary health organization dedicated to advancing the prevention, early diagnosis and successful treatment of life-threatening blood clots, such as deep vein thrombosis, pulmonary embolism, and clot-provoked stroke.  NBCA works on behalf of people who may be susceptible to blood clots, including people with clotting disorders, atrial fibrillation, cancer, traumatic injury, and risks related to surgery, lengthy immobility, child birth and birth control.  NBCA accomplishes its mission through programs that build public awareness, educate patients and healthcare professionals, and promote supportive public and private sector policy.
For more information about blood clots and blood clotting disorders, visit NBCA's website or follow NBCA on Twitter and Facebook.