Highlights from the 12th National Conference on Anticoagulant Therapy.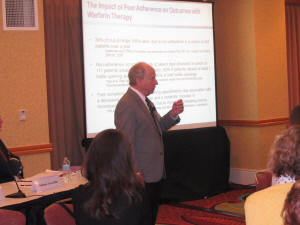 Jack Ansell MD, Chair of National Blood Clot Alliance (NBCA) Medical & Scientific Advisory Board is a dedicated proponent of INR patient self-testing or self-management to the extent that he re-titled his presentation at the Anticoagulation Forum in Phoenix, AZ to reflect his vision of the changes or progression he foresees in anticoagulation management.
He called his talk, "The Patient as Anticoagulation Specialist of the Future," and he suggested that the future is now.
Data show that patients do better when they self-test/self-manage and adjust doses of their blood thinner as needed.
Dr. Ansell believes that the current available technology makes the patient as the orchestrator of his or her anticoagulation an ultimate goal in healthcare. Randy Fenninger, NBCA President, is a recent convert to self-testing, and he appreciates the ease and instant messaging of his INR level that a home testing machine provides. Both Dr. Ansell and Randy Fenninger look forward to the time when INR self-testing is as common as testing blood sugar at home, with a similar growth in patient self-confidence and satisfaction. Dr. Ansell said the number of patients who self-test INR or self-manage dosing based on INR is increasing at a brisk pace.