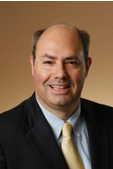 Gary Raskob, PhD, has been selected to chair the National Blood Clot Alliance's Medical and Scientific Advisory Board (MASAB).
Raskob is Dean of the College of Public Health at the University of Oklahoma (OU) Health Sciences Center in Oklahoma City. He also is a professor of Epidemiology and Medicine and holds a joint appointment in the OU Colleges of Public Health and Medicine.
Raskob is a national and international authority in thrombosis and much of his professional work includes clinical trials directed at the prevention and treatment of deep vein thrombosis (DVT) and pulmonary embolism (PE). As a national expert, Raskob has played a major role in sharpening the focus on the public health burden of DVT and PE.
NBCA President Joe Isaacs stated, "NBCA is very fortunate to have this nationally respected research scientist and public health leader at the helm of our Medical and Scientific Advisory Board. He has tremendous experience chairing medical and advocacy bodies and will bring great energy and ideas to the work of our impressive advisory body. "
"I am deeply honored to be appointed as chair of NBCA's Medical and Scientific Advisory Board," Raskob said,
"It is my goal to focus on working with NBCA leadership to substantially reduce the number of deaths due to blood clots in America. We have the knowledge and technology and the key to success will be prevention through increased awareness and application among patients, health professionals and the public."
Raskob received his doctorate in pharmaceutical sciences from the University of Oklahoma, a Master of Science degree in clinical epidemiology and health research methodology from McMaster University in Hamilton, Canada, and a Bachelor of Science degree in pharmacology from the University of Toronto, Canada. Raskob was recently elected the Chair -elect of the Board of Directors for the Association of Schools of Public Health. He is author of more than 200 publications on the diagnosis and treatment of thromboembolic disorders.