Tarrytown, NY:  – Memories of kickball games in the schoolyard come to life on Saturday, June 26, 2010 as 100 NATThletes team up for a Kick the Clot Tournament to raise funds and awareness for blood clots and clotting disorders.  From 10:00 a.m. until 4:00 p.m. 10 teams of 10 players will kick the ball, run the bases and compete for exciting Tournament prizes. This will take place near the beach at the softball fields on 5th, 6th and Haven Streets in Ocean City, New Jersey.  Download and fill out a sponsorship form.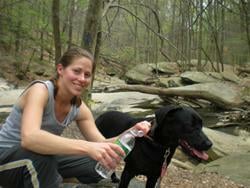 According to Cheryl Fishman, a volunteer for the National Blood Clot Alliance (formerly NBCA), "Two years ago, at the age of 26, I experienced devastating effects from 3 blood clots in my arm, that went undiagnosed by both an urgent care center and a local emergency room.  I'm honored to be able to organize Kicks for Clots as a way to raise money and increase awareness amongst people of all ages.  Many people know someone who is affected by blood clots, but typically we don't think it will happen to us, especially younger people."
Blood clots affect individuals and families more than most people realize.  Approximately 350,000 – 600,000 people have blood clots in the leg (deep vein thrombosis / DVT) or in the lung (pulmonary embolism / PE) each year.  About 100,000 of these individuals die from their clot, which is roughly 1 of 3 of those affected.  Studies from the Mayo Clinic reveal that in the state of New Jersey there are approximately 25,560 DVTs and PEs along with 8,500 deaths annually.
"The Kicks for Clots kickball tournament is an exciting event that will heighten awareness about the significance of blood clots" says Traci Wilkes Smith, a blood clot survivor, NATThlete, and vice president of the National Blood Clot Alliance.  "I'm acutely aware of the threat to life that I experienced, and am committed to doing all that I can to alert others to the signs and symptoms of blood clots.  I've joined Cheryl's team for the Kicks for Clots Tournament and am looking forward to this unique way to support this important cause."
Spots are available for teams that want to participate in this year's tournament.  Teams and individuals may sign up by visiting www.firstgiving.org/natt.  The entry fee is $30 per person, with a team fundraising minimum goal of $1000.
Four levels of sponsorship opportunities (ranging from $250 to $2000) exist for businesses wishing to gain exposure and field players or a team at the Tournament.
There are many ways to get involved.  Join us today and make a difference!
Start your own team, join an existing team or register to play as an individual at www.firstgiving.org/natt
Create a personal fundraising page
Recruit friends, family members and business associates to participate
Support the cause by visiting www.firstgiving.org/natt