By: Roland Varga, aka "The Clot Buster"
Originally Published the Summer of 2006 – Reprinted October 2008
During this summer, "The Clot Buster" had the opportunity to race around 3 different states and well over 255.5 miles. But more importantly, I had the opportunity to spread the word about NBCA. I also had the pleasure during my three-state race to meet people who had been affected with blood clots. The positive attitude and strong resolve of these people deeply moved me because they had not let their clotting experiences defeat their lust for life.
I wish that I could meet everyone who, despite having blood clotting issues, remains active and continues to pursue their dreams. I truly enjoy learning about their love for cycling and how much they crave to return to the sport of bike racing. Here are a few folks I have met along the way that you should read about:
Brendan Rogers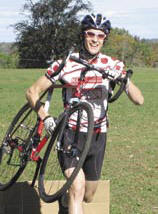 As a cycling fan and a collegiate cyclist, Brendan has a lot of professional riders that he looks up to and that inspire him. One might think that as an American he would admire the seven-time Tour de France Champion you-know-who or the most recent American "under suspicion" yellow  jersey wearer.
But Brendan admires someone with a different set of attributes that resemble more his own style of riding and outlook in life…Alexandre Vinokourov.  Vinokourov is without a question the most  relentless bike rider in the professional peloton. If you are a fan of cycling, you probably heard of him and his aggressive style of bike racing that can put a lot of people in difficulty and win him races regardless of the terrain and the competitors.
Perhaps Vinokourov's relentless "I am not giving up" attitude is what Brendan appreciates – especially after his encounter with blood clots that occurred shortly after his first full racing season as a member on the University of Connecticut Cycling Team. Brendan, a Molecular and Cell biology student, suffered massive clots in both of his legs.
The medical condition required intense treatment and knocked him off his bike for the entire month of July. But thanks to the treatment, and his Vinokourov-like attitude, Brendan was spinning his legs and his wheels again less than two months after his clotting incident. Brendan is back working in the bike shop, wearing compression hose (his fellow mechanics also wore some in support) getting them all greased up just like any other part of the bike mechanic outfit.
Over time, power has returned to Brendan's legs. Following the guidance of his coach, he is now back into racing with his UCONN team and recently he participated in a eight hour endurance mountain bike race where he finished in SECOND place overall!
He has done well enough this season to qualify for the NCAA Collegiate National Mountain Bike Championship race in Angel Fire New Mexico. That is the BIG DANCE for Mountain Biking… GO
BRENDAN!!!"
Cheryl Edwards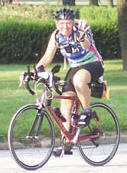 How far can you ride your bike? If we were to ask that question to Cheryl Edwards, she would respond with a huge smile and say "As far as I can!"
You have probably heard the saying "you can't stop her just hope to contain her." Well, the roads across this great country are the only thing that is containing her. Regardless of the weather conditions, terrain, and any other obstacle you may put in her way, she was not to be stopped this summer from riding her bike across the United States.
Along with her husband and 38 other bicycling enthusiasts, Cheryl participated in a supported tour that started in Seattle, Washington and ended several thousands of miles later in Washington, D.C. It was the adventure of a lifetime for this 53 year old "grandma" who has been cycling, swimming, and running all of her life.
I spoke to Cheryl as she rode along a 30 mile portion of her journey (the segment starting at Sandusky, OH). It was a typical summer Sunday morning with the humidity hovering around 150
percent! Nonetheless, the only complaint that you will hear from this constantly smiling grandmother was that the humidity was making her breathing difficult.
You see, a few years back, Cheryl suffered not one, but a couple of PE's that left her with damaged lungs. Now, she maintains a prevention regimen with daily blood thinners and constant
monitoring. The prevention and monitoring program will be a life long regimen.
Learning to live under these circumstances only makes Cheryl want to get up in the morning and do more. During her ride across the U.S., she suffered a nasty crash that brought some difficulty to the ride and its logistical tour plans. But that incident NEVER STOPPED her from ticking over those pedals from the Pacific to the Atlantic.
Yes, she recognizes the risks and life changing obstacles she now faces following her life-threatening brush with blood clots. She is very aware that with some adjustments life remains ahead for her to continue riding, smiling, and creating awareness about blood clots and blood clotting disorders.