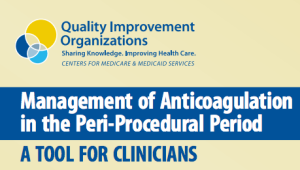 A new, free-of-charge tool produced by the New York State Anticoagulation Coalition will enable clinicians to more easily determine how, whether and when to stop the use of warfarin and other anticoagulants prior to surgery and other invasive procedures ranging from major orthopedic or cancer surgery to colonoscopies and arthroscopy to dental cleanings and dermatological excisions.
Creators of this unique tool, known as "MAP" (Management of Anticoagulation in the Peri-Procedural Period), believe it is the first time evidence-based guidelines on this critical topic have been distilled into an easy-to-use, single-page format.  Click here to download a copy of the MAP tool.
Surgery and invasive medical interventions increase the risk of bleeding, but withholding anticoagulants increases the risk of thrombosis (blood clots) due to the underlying conditions for which anticoagulation was originally prescribed.  The MAP tool helps clinicians guide their decision making in balancing these risks, and enables them to make more informed choices on whether to interrupt oral anticoagulation for a medical procedure.
The tool also provides guidance on, if anticoagulation is interrupted, whether to "bridge" with injectable anticoagulants, such as low molecular weight heparin in patients who are normally treated with warfarin. "The MAP tool will be useful for surgeons, gastroenterologists, dentists, and other disciplines that routinely perform invasive procedures," said Darren M. Triller, PharmD, Senior Director, Healthcare Quality Improvement Program and a member of NBCA's Medical and Scientific Advisory Board (MASAB).