Press Release Date: May 22, 2008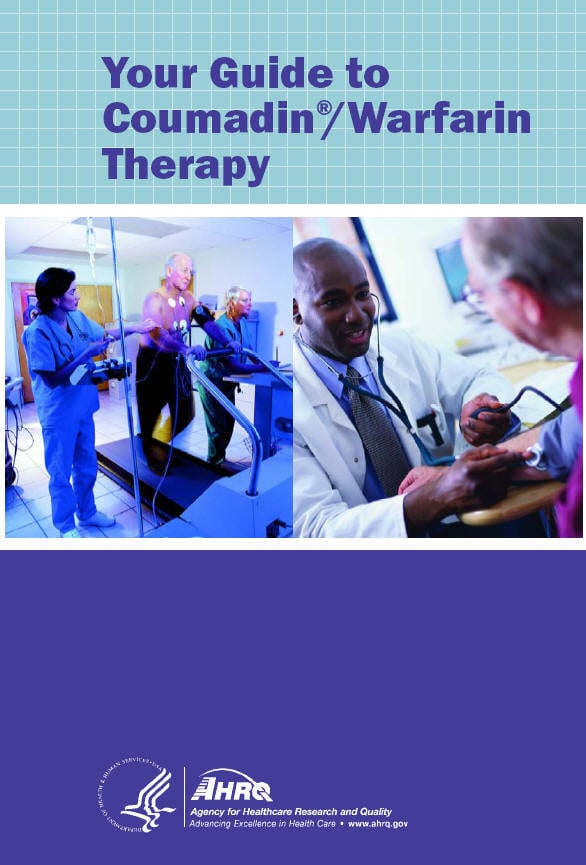 The U.S. Department of Health and Human Services' (HHS) Agency for Healthcare Research and Quality today released a new consumer publication, Your Guide to Coumadin®/Warfarin Therapy. This 20-page, easy-to-read patient brochure explains what patients should expect and watch out for while undergoing Coumadin®/Warfarin therapy.  Click here to view the PDF file of the Coumadin/Warfain guide.
In 2005, more than 3.8 million Americans were taking Coumadin®/Warfarin at an estimated cost of nearly $963 million, according to the latest data from AHRQ. Warfarin is a blood thinner that is used to help prevent blood clots that can cause a stroke, heart attack or other serious conditions. Clinicians sometimes prescribe it for other uses as well, and the booklet is intended to help patients who have been prescribed the drug to use it as safely as possible. Warfarin is the second most common drug—after insulin—implicated in emergency room visits for adverse drug events, according to HHS' Food and Drug Administration.
"Warfarin is an effective drug, but it must be used with special care to avoid dangerous bleeding," said AHRQ Director Carolyn M. Clancy, M.D. "Individuals respond differently to warfarin, so the dosage must be personalized to each patient, and it is necessary for patients and clinicians alike to be aware of the factors that make for safe use of the drug."
A simple blood test can quickly tell whether a patient is taking too much or too little warfarin. This brochure educates patients about their medication therapy and potentially dangerous side effects, explains how to communicate effectively with their healthcare providers and provides tips for lifestyle modifications. It also provides information on remembering when to take the medicine, learning how to stay safe while taking the medicine, maintaining a consistent diet and alerting healthcare providers to concurrent drugs and/or supplements patients are taking to avoid any potential adverse interactions.
This publication was developed through one of AHRQ's Partnership for Implementing Patient Safety (PIPS) grant projects at Kirkwood Community College . The project was led by James Levett, M.D., Chief Medical Officer at the Physicians Clinic of Iowa and Carla Huber, A.R.N.P., M.S., of the Cedar Rapids Healthcare Alliance. The purpose of PIPS grants is to assist consumers, clinicians and healthcare institutions in implementing safe practices that may eliminate or reduce medical errors, risks, hazards and harms associated with healthcare processes.
The new booklet can be found online at http://www.ahrq.gov/consumer/coumadin.htm. It is also featured on the SOS Rx Coalition's Web sitehttp://www.mybloodthinner.org. Free single copies of Your Guide to Coumadin®/Warfarin Therapy are available by calling the AHRQ Publications Clearinghouse at (800) 358-9295 or by sending an e-mail to AHRQPubs@ahrq.hhs.gov.
For more information, please contact AHRQ Public Affairs: (301) 427-1244 or (301) 427-1865. 
Click here to return to our news page.