NBCA Operations
As a nonprofit organization, NBCA is headquartered in Vienna, Virginia, and is complemented by satellite offices in Boston, Phoenix, and Columbus, providing outreach that spans both coasts. The organization has three primary functional areas:
Executive Offices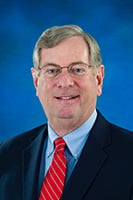 NBCA's CEO Randy Fenninger, JD, oversees the operations of the organization from NBCA's executive offices in the DC Metro area.
Fenninger is uniquely qualified to help fulfill NBCA's goals. Before joining NBCA, he was a Principal with Creek Crossing Advisors, LLC, where he specialized in healthcare law, legislation, regulation and policy. Prior to that, he was a Senior Policy Adviser at Holland & Knight, where he managed a wide spectrum of healthcare legal, legislative, regulatory and policy matters of interest to large corporate and association clients, including physician organizations and healthcare systems. Fenninger also was co-founder of MARC Associates, a boutique healthcare government relations firm, where he served as president for many years.
Fenninger, who survived bilateral pulmonary emboli (blood clots in both of his lungs) several years ago, also served NBCA for nearly 10 years in a volunteer leadership capacity, as a committee member, board member, and board president.
Contact NBCA's CEO at Randy Fenninger.
---
Department of Development and Regional Affairs
The Department of Development and Regional Affairs of NBCA is responsible for all fundraising activities of the organization both nationally and locally. Working with volunteers throughout the country we assist individuals and companies in hosting a variety of fundraisers in their region. Events include Walks, Runs, Golf Tournaments and corporate sponsored activities. Our department also supports and encourages the efforts of Team Stop the Clot. These individual athletes engage in run or walk activities honoring their own survival or remembering someone less fortunate.  The funds they raise and the awareness they generate are a victory for our Team and for the several hundred thousands of people each year in the U.S. who are affected by DVTs and PEs.
Click here to contact NBCA's Department of Development and Regional Affairs with comments or inquires.
---
Department of Communications & Health Marketing
NBCA's Department of Communications & Health Marketing provides a broad spectrum of services and support to the organization and the organization's constituencies, operating across organizational functions to ensure important communications support and specialized marketing expertise to help build public awareness about venous thromboembolism, and to address the information needs of a diverse community of individuals affected by blood clots and clotting disorders, including their caregivers and healthcare providers.
The Department also is responsible for the implementation of NBCA's large-scale awareness and education programs, and serves as liaison with government, industry, and other advocacy influentials with whom NBCA partners.
Press releases and press inquiries are routed through NBCA's Communications Department, and all matters pertaining to NBCA news, website, social media channels, and monthly e-Newsletters are driven by NBCA's communications team.
Learn more about NBCA programs and services here: Programs and Services
Sign up for NBCA's monthly newsletter here: NBCA e-Newsletter
Sign up for NBCA's Stop the Clot Online Support Group & Discussion Community, powered by Inspire, here: Online Support Group
Visit our press room here: Press Room
View our privacy policy here: Privacy Policy
Click here to contact NBCA's Department of Communications & Health Marketing with comments or inquiries.
---