2019 Martha's Vineyard Marathon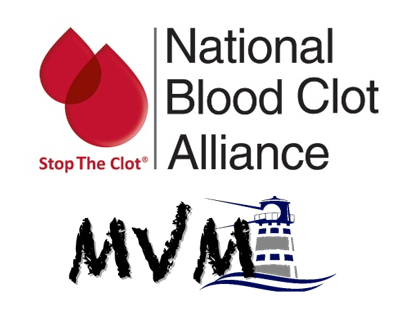 The National Blood Clot Alliance (NBCA) is excited to announce that we've been selected to participate in the 2019 Martha's Vineyard Marathon Charity Program. We invite you to join us On May 18, 2019 as Team Stop the Clot® runs through the scenic beach-lined streets of Martha's Vineyard.
Martha's Vineyard is a picturesque island located south of Cape Code in Massachusetts. It is famous for it's natural beauty with miles of beaches, and walking, hiking, and biking trails. Now you have a reason to make this bucket-list destination race your "run-cation." The course is relatively flat with a few gentle rollers. Whether you're trying to qualify for Boston or just want to run a beautiful race, see why Martha's Vineyard is so famous and spend a few extra days at this destination favorite.
The marathon starts at Martha's Vineyard Regional High School and runs the first 13 miles through DCR Manuel Correllus State Forest, then right down through Edgartown with a finish on Beach Rd, over the famous "Jaws" bridge, with a finish in beautiful Waban Park in Oak Bluffs.
Interested in crossing the finish line with us on May 18 as a part of Team Stop the Clot®? Apply below!
Why Join Team Stop the Clot®?
Beyond a doubt, we're one of the most supportive, energetic and fun charity teams. Sporting red polka dot shirts and other team gear, you'll see us throughout the US increasing blood clot awareness at 5Ks, 10Ks, Marathons and cycling events! Our shirts inspire questions. Our team members have the answers.
As a member of Team Stop The Clot® your benefits include:
Access to our past Team Stop The Clot members – maybe even in your own community
Team Stop The Clot Facebook page
Fundraising assistance from NBCA staff
Race day singlet and other Team Stop The Clot swag
Additionally, our Team Stop the Clot® Facebook page offers fundraising guidance, training tips and camaraderie from NBCA staff and fellow Team Stop the Clot® athletes.
Applications are now being accepted for five Martha's Vineyard Marathon entries for Team Stop the Clot®.  Each accepted team member will be expected to raise a minimum of $1,000.
Please complete the application and email it to tpatrikis@stoptheclot.org. Applications will be processed in order of receipt. You will be notified of your acceptance to Team Stop The Clot® within two weeks of receipt of your completed application.
If you are interested in volunteering for this event, please email tpatrikis@stoptheclot.org.