This article is currently being updated and revised. Please consult with your healthcare provider in the interim should you have questions about INR self-testing.
INR Self Testing
Stephan Moll, MD; University of North Carolina, Chapel Hill, NC Jack Ansell, MD; Boston University Medical Center; Boston, MA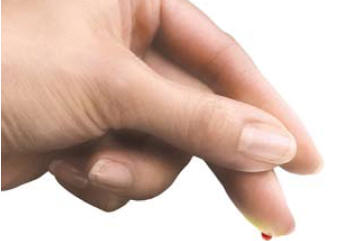 Warfarin and the INR
If you are on warfarin (Coumadin®, Jantoven®), you regularly need a blood test called prothrombin time, protime or PT, with the result of the test called INR – International Normalized Ratio. Monitoring of the INR is essential because too high an INR puts an individual at risk for bleeding and too low an INR at risk for clotting. There are four different ways to get your INR tested and warfarin adjusted:
Traditional way: In the physician's office or anticoagulation clinic, blood is drawn from a vein stick and then sent to a laboratory. It takes some time to get the INR value back: 1-2 hours at the fastest, 1-2 days if the blood sample needs to be sent to an outside laboratory. You will need to be called at home once the result is back and your new warfarin dose needs to be discussed. This is a somewhat cumbersome and time-consuming way to manage warfarin.
Physician office point-of-care testing: In your physician's office a small drop of blood from a finger stick  can be transferred onto a small, so called "point of care instrument" (POC device). The INR result is available within minutes, while you are still in your physician's office. You can, therefore, immediately be informed of the result and your further warfarin dosing discussed with you. These POC instruments make warfarin management easier and lead to improved, faster and more efficient communication with patients.
INR self-testing: You can use these same "point of care" instruments at home or when traveling to check your INR. You can then inform your physician, anticoagulation clinic pharmacist or nurse, or the IDTF (independent diagnostic testing facility; further discussion below) of the result (by phone or through the Internet) and get instructions on further dosing of your warfarin. This is referred to as "Patient self testing" (PST).
INR self-management: Patients who use the "point of care" instruments themselves can not only check their own INR, but can also be taught to adjust their own warfarin dosing. While this type of anticoagulant management has gained acceptance in the medical community in some European countries, it has, at this point, not been promoted by the healthcare systems in the U.S. or Canada.
Reasons to do INR self testing
High quality anticoagulation therapy can certainly be delivered through physicians' offices and  anticoagulation clinics. For many patients these are good, effective, safe and convenient set-ups. However, for many people, INR self testing is also a good and attractive option. There are some powerful advantages of INR self testing over routine office-based care.
Foremost, several studies (summarized in reference 1) have shown that individuals who monitor their own INR have (a) slightly less bleeding and clotting complications, and (b) are more often in the target INR range, i.e. their anticoagulant therapy is better controlled;
Patient self testing can be more convenient and save you time, as you do not have to go to the physician's office for testing. This can give you more freedom, particularly, if you have to rely on a caregiver for transportation or have a long drive to your physician's office;
It may give you a sense of security, as you can easily check the INR at times when you suspect that the INR may be too high or too low, such as when you have started a new medication, discontinued a medication, are sick, or have changed your diet. Also, if you have a history of fluctuating (unstable) INRs and need to have frequent INR checks, it is easier to test more frequently if you have your own instrument at home;
It may empower you by having you actively involved in your medical care;
It allows you to travel without having to track down service providers for INR testing and deal with bureaucracy and language barriers;
And lastly, if it is difficult to get a venous sample from you from an i.v. stick and your physician's office  does not have a "point of care" instrument, the self testing from a finger stick may be a good solution for  you.
Thus, there are several good reasons for you to consider self testing and ask your physician about it.  Similarly, these same reasons should prompt physicians to make you aware of the possibility to do INR self testing.
Who is suitable for INR self testing?
Self testing may be suitable for you if:
you have shown good compliance with previous anticoagulation management;
you have the manual and visual dexterity to perform testing or have a committed support person to assist you with testing;
the clinic or physician's office following you has a policy that approves patient use of the instrument;
you and your healthcare provider agree upon a method of communication regarding the INR results that  you will obtain.
Appropriate training and consistent quality control of the instrument are key for INR self monitoring to be safe and effective for you.
What INR home monitoring instruments are on the market?
Two instruments are being marketed in North America (table 1). Either is a good option for patient self testing. The instruments are small and light, weighing only between 5.3 and 28.8 ounces. For  INR testing, only a small amount of blood needs to be applied to a test strip (for CoaguChek®XS and INRatio®), only one small to large blood drop. Prices for the machines are roughly between $1,500 and $2,500, and prices for one test strip, i.e. for one INR test, $7.00 –  $18.00.
When trying to decide which of these instruments to purchase, you may want to consider:
your physician's or anticoagulation clinic personnel's recommendation, based on their experience and knowledge of the instruments;
other patients experience and satisfaction with (a) their home monitoring device, and (b) the educational and support services provided to them by the manufacturer and/or distributor (IDTF); support and education services provided by the company making the instrument or distributing it;
amount of blood needed for the test strip (10 micro liter for CoaguChek®XS; 15 micro liter for INRatio);
ease of operating the instrument;
Weight of the instrument may matter to you especially if travelling frequently.
Do INR home monitoring instruments give reliable INRs?
Yes. INR values obtained with finger stick home monitoring devices are typically very well reproducible and correlate well with INR determinations obtained from blood sticks from a vein and tested in a laboratory. However, INRs above 4.0, discrepancies to INR values obtained with other test methods may exist. This is a general limitation of the INR and not unique to the home monitors. It is not clear which of such discrepant values is more reliable and accurate: the INR determined in the laboratory or the POC instrument INR.
INRs from POC instruments are unreliable in about 1/3rd of patients with the clotting disorder called antiphospholipid antibody syndrome (APLA syndrome) who are on warfarin. In these patients, the POC devices give INR readings that are too high, or the instruments report error messages. This is the case with the 2 instruments on the market. If you have APLA syndrome, your INRs should be checked="checked" from blood drawn from a vein and tested in a laboratory. That value can then be compared to the INR obtained with a POC instrument from a finger stick. Only if both values correlate well may it be acceptable for you to use the POC machine for self testing.
Do insurance companies pay for home monitoring instruments?
Medicare covers home patient self INR monitoring  for chronic, oral anticoagulation management for patients with mechanical heart valves, chronic atrial fibrillation, or venous thromboembolism (inclusive of deep venous thrombosis, DVT, and pulmonary embolism, PR) on warfarin.
The monitor and the home testing must be prescribed by a treating physician and all of the following requirements must be met:
The patient must have been anticoagulated for at least 3 months prior to use of the home INR device; and,
The patient must undergo a face to face educational program on anticoagulation management, and demonstrate the correct use of the device prior to its use in the home; and,
The patient correctly uses the device in the context of the management of the anticoagulation therapy following the initiation of home monitoring; and,
The patient should not perform self-testing with the device more than once a week.
| | | |
| --- | --- | --- |
| | | |
| | InRatio® | CoaguChek® XS |
Other insurance carriers usually follow Medicare's lead when it comes to coverage decisions. Some companies pay for  them upon submission of the first insurance claim; others may initially deny payment but later agree to pay, if you are persistent and explanatory letters are written (by you and/or your healthcare provider) and phone calls made.
How do I get an instrument?
If you are interested in having one of these home monitoring devices you should discuss this with your anticoagulation provider. Your physician needs to be supportive because he/she:
will need to write a prescription for it;
will need to be available for the continued oral warfarin dose adjustment;
is medically responsible for your anticoagulation management.
Once a prescription has been written you can contact one of the companies that can help you obtain an instrument (table 2). They are called independent diagnostic testing facilities" (IDTFs) and are specialized in:
checking with the insurance companies whether they will pay for the instrument and testing materials;
filling out the necessary insurance paperwork for you;
providing you with the instrument and testing materials;
teaching you how to use it;
be available to you in the future for answering any questions or assisting you if problems with the testing device arise;
Some of the IDTFs also have software and methods to help track your INR results and communicate the results to your healthcare provider.
Table 1 FDA Approved INR Home Monitoring Devices
| | | | |
| --- | --- | --- | --- |
| Name of Instrument | Company | Website | Phone Number |
| CoaguChek® XS | Roche | www.coaguchek.com | 800-852-8766 |
| INRatio® | HemoSense | www.hemosense.com | 877-436-6444 |
| | | | |
What can I tell my healthcare provider if I am interested in INR self testing?
Your healthcare provider may be hesitant for you to use an INR home monitoring instrument. He/she may feel left with the work and hassle of phone calls dealing with INRs that have been tested by
you at home, giving medical recommendations over the phone, but not receiving appropriate reimbursement for these services. This is a valid concern if you are on an oral anticoagulant for reasons
other than a mechanical heart valve and your insurance is through Medicare/Medicaid. However, some other insurance carriers have started to cover such services, even if you are on a warfarin for DVT,
PE, irregular heart beat and other reasons. CMS is also presently discussing to expand coverage of home INR testing to indications other than heart valve replacement. A decision is expected early in
2008. At this point, it is probably best for you to:
discuss your interest in using a home monitor with your healthcare provider;

talk to your insurance provider and inquire about their approach to coverage for the instrument, the testing materials (strips or cuvettes) and the healthcare provider's services.

The easiest route may, however, be to utilize the experience of the IDTFs to help you and your physician navigate the reimbursement issues.
P AT I E N T R E S O U RC E S
R E F E R E N C E S
1. Heneghan C et al. Self-monitoring of oral anticoagulation: a systematic review and meta-analysis. Lancet 2006;367(9508):404-411
2. Yang DT et al. Home Prothrombin Time Monitoring: A Literature Analysis. Am J Hematol 2004;77:177-186.
3. Dorfman DM et al. Point-of-care (POC) versus central laboratory instrumentation for monitoring oral anticoagulation. Vascular Medicine 2005;10:23-27.
4. Gardiner C et al. Patient self-testing is a reliable and acceptable alternative to laboratory INR monitoring. Br J Haematol. 2005;128:242-7.
5. Perry SL et al. Point-of-care testing of the international normalized ratio in patients with antiphospholipid antibodies. Thromb Haemost. 2005 Dec;94(6):1196-202.
6. www.cms.hhs.gov/mcd/viewtrackingsheet.asp?id=209
ABBREVIATIONS
CMS – Centers for Medicare and Medicaid Services

DTF – independent diagnostic testing facility

INR – International Normalized Ratio

i.v. – intravenous

POC device – point of care device

PST – patient self testing
Originally posted October 15, 2008
Click here to return to our news page.